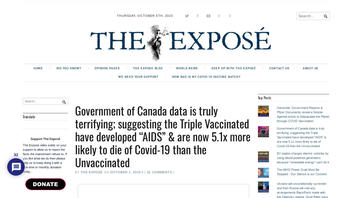 Does Canadian government data show that people double-vaccinated for COVID-19 have lost 74% of their "immune system capability," and that those who are triple-vaccinated have lost 73%? No, that's not true: The Public Health Agency of Canada told Lead Stories, "These claims are false." Additionally, there is no publicly available credible Canadian government data or scientific evidence to support such claims.
The claims appeared in an article (archived here) published by The Exposé on October 1, 2023, under the title "Government of Canada data is truly terrifying; suggesting the Triple Vaccinated have developed 'AIDS' & are now 5.1x more likely to die of Covid-19 than the Unvaccinated." The article opened :
The latest official Covid-19 figures from the Government of Canada are truly terrifying. They show that the double vaccinated population across Canada have now lost on average 74% of their immune system capability, and the triple vaccinated population across Canada have now lost on average 73% of their immune system capability compared to the natural immune system of unvaccinated people.

So much damage has now been done that the figures show the double vaccinated population are on average 3.8 times more likely to be infected with Covid-19 and 3.3 times more likely to die of Covid-19 than the unvaccinated population.

But it's even worse for the triple vaccinated population in terms of their risk of death. The official figures show that they are on average 3.7 times more likely to be infected with Covid-19 but 5.1 times more likely to die of Covid-19 than the unvaccinated population.

These figures therefore suggest that both the double and triple vaccinated population in Canada have now had so much damage caused to their immune systems by the Covid-19 injections that they have now developed Acquired Immunodeficiency Syndrome.
This is what the post looked like on The Exposé website at the time of the writing of this fact check: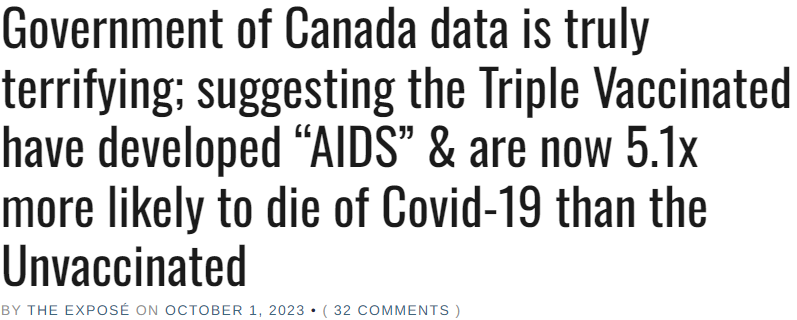 (Source: The Exposé screenshot taken on Thu Oct 5 16:11:23 2023 UTC)
Public Health Agency of Canada
In an October 5, 2023, email to Lead Stories, the Public Health Agency of Canada (PHAC), which handles the Canadian government's response to COVID-19, responded that the article's assertions are "false." PHAC continued:
The Public Health Agency of Canada (PHAC) is aware of [an article] circulating online that makes the claim that COVID-19 vaccines can induce a state of immune suppression following immunization. The Government of Canada's vaccine safety surveillance systems have not identified any safety signals for this, nor have any reports of a safety signal been communicated by international regulators or public health authorities.
Claims not supported
Dr. William Schaffner, a professor of medicine in the division of infectious diseases at Vanderbilt University Medical Center, told Lead Stories that there's no evidence that "COVID vaccines generally suppress or weaken the immune system." His comments came in a July 25, 2022, email to Lead Stories for an earlier story titled "Fact Check: COVID Vaccines Do NOT Suppress Immune System." He continued:
Of course, the vaccines specifically strengthen the immune system so that it can prevent serious COVID infections. Beyond that, if the COVID vaccines generally suppressed the immune system in a substantial way, that would have become evident by now. Those who had received the vaccines by now would have evidenced an increase in a myriad of other infections. Millions of doses of COVID vaccines have been administered around the world and this has not occurred anywhere.
The Exposé headline and article also suggest that multi-vaccinated people have damaged their immune systems so badly that they've developed acquired immunodeficiency syndrome (AIDS). The email from Canada's public health agency said that's not the way it works:
To date, no reports of AIDS following COVID-19 vaccines have been submitted to PHAC ...

AIDS is caused by HIV, a human retrovirus, so it would not be possible for a COVID-19 vaccine to cause AIDS. mRNA vaccines do not use a live virus to trigger an immune response. The viral vector COVID-19 vaccine uses a harmless virus (in this case, an adenovirus) as a delivery system, which helps the body's cells make a coronavirus protein. The protein triggers an immune response that will help protect against COVID-19. More information can be found online: COVID-19: Vaccine safety and side effects - Canada.ca.

PHAC is also not aware of any credible studies demonstrating that COVID-19 vaccines impair a recipient's immune system to make them more susceptible to infectious diseases and cancer.
Read more
Additional Lead Stories fact checks of claims related to vaccines can be found here.
Other Lead Stories fact checks about vaccine-acquired immune deficiency syndrome (VAIDS) can be found here.