STORY UPDATED: check for updates below.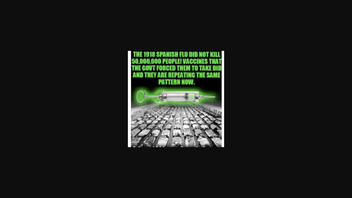 Did vaccines kill millions during the Spanish flu pandemic of 1918? No, that's not true: According to medical research and medical experts, the pandemic, which killed at least 50 million people worldwide, was caused by an influenza A (H1N1) virus. A social media post offered no evidence to support its claim, which is contradicted by the body of medical research on the 1918 pandemic.
The claim appeared in a post on X, formerly Twitter, (archived here) on October 15, 2023. The post's text said:
THE 1918 SPANISH FLU DID NOT KILL 50,000,000 PEOPLE! VACCINES THAT THE GOVT FORCED THEM TO TAKE DID AND THEY ARE REPEATING THE SAME PATTER NOW.
Under a picture of lines of cots stretching into the distance, with a giant syringe looming overhead, text at the bottom of the image said:
50 million dead from 1918 FLU VACCINE
This is what the post looked like at the time of writing: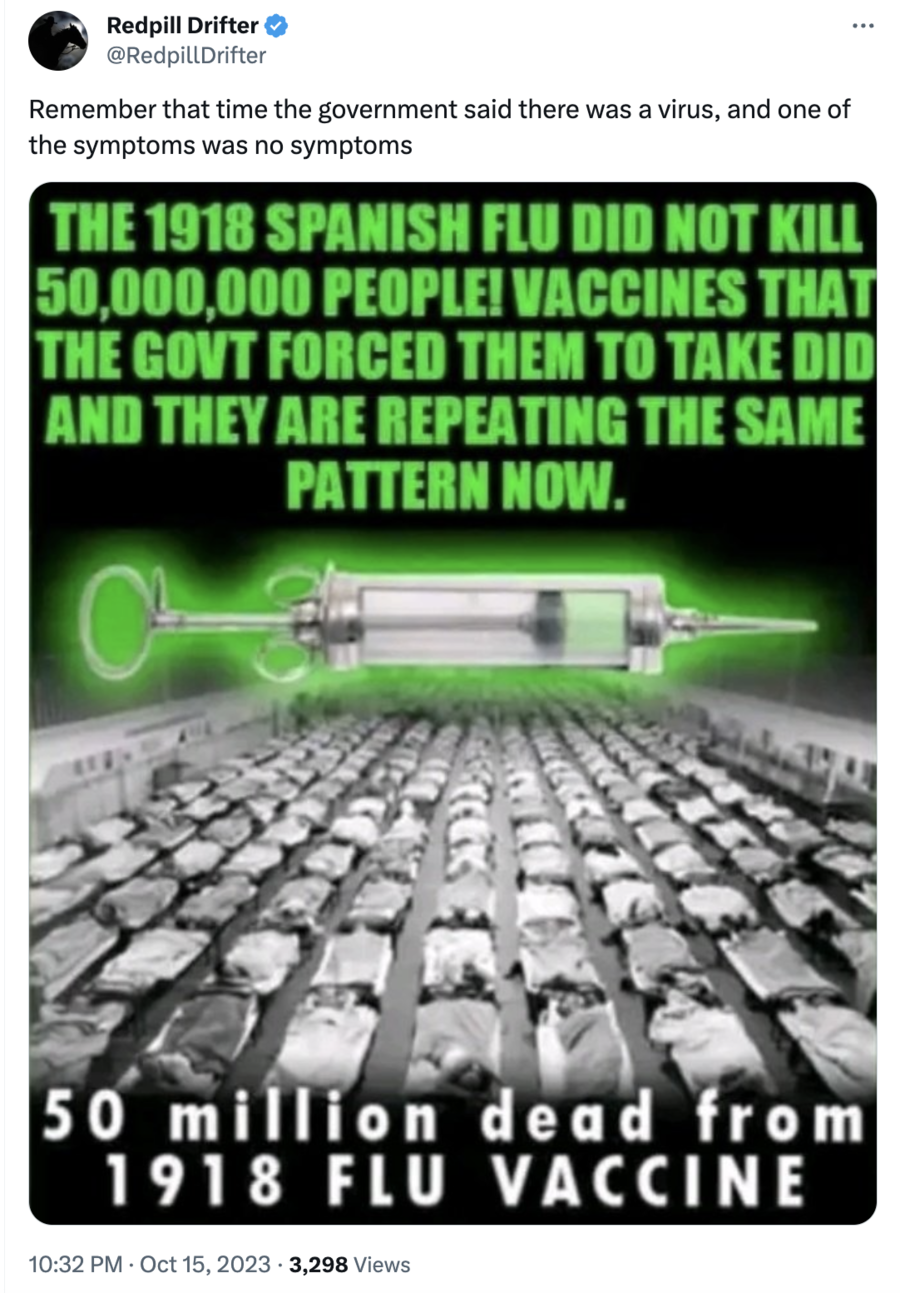 (Source: Instagram screenshot taken on Wed Oct 18 20:05:11 2020 UTC)
The U.S. Centers for Disease Control and Prevention (CDC), the World Health Organization (WHO), the Mayo Clinic and others all agree that the pandemic was caused by an H1N1 virus.
John Barry, author of "The Great Influenza: The Story of the Deadliest Pandemic in History," described claims made in such posts as "utter complete nonsense." In an email to Lead Stories, dated October 20, 2023, he noted that "in some cities they did develop vaccines -- against bacteria, which of course didn't work and were only administered to a tiny fraction of the population weeks after the pandemic had already started and killed millions of people."
According to the CDC, just five vaccines -- smallpox, rabies, typhoid, cholera and plague -- had been developed in the 19th century. But they were not widely used in 1900, and the flu vaccine came much later. According to the WHO, the first inactivated flu vaccine was developed by Thomas Francis and Jonas Salk at the University of Michigan. The vaccine was tested on members of the U.S. military and approved for wider use in 1945, about 27 years after the Spanish flu pandemic.
Lead Stories has debunked a number of claims involving the Spanish flu before. See here for a collection of those stories, including this one, which claimed the 1918 pandemic was caused by radio waves.
2023-11-01T19:55:52Z

2023-11-01T19:55:52Z

Updated using new version of the claim.