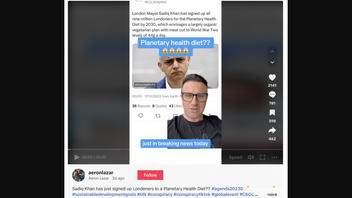 Did London Mayor Sadiq Khan impose restrictions on meat consumption on all city residents as of October 20, 2023? No, that's not true: While the mayor publicly promotes increased vegetable consumption, he neither introduced rationing of meat nor enacted a total ban on this category of food. Posts on social media mislead about his policies. In addition, Khan first announced his food plan in 2019.
The claim appeared in a video (archived here) on TikTok on October 17, 2023, under the caption:
Sadiq Khan has just signed up Londeners to a Planetary Health Diet??

#agenda20230 #sustainabledevelopmentgoals #UN #conspiracy #conspiracytiktok #globalevent #CBDC #digitalcurrency #cryptok #digitalpoundfoundation #digitalpound #bankofengland
In the background, the video showed what appeared to be a screenshot of another entry on social media, which read:
London Mayor Sadiq Khan has signed up all nine million Londoners for the Planetary Health Diet by 2030, which envisages a largely organic vegetarian plan with meat cut to World War Two levels of 44g a day.
This is what the post looked like on TikTok at the time of writing: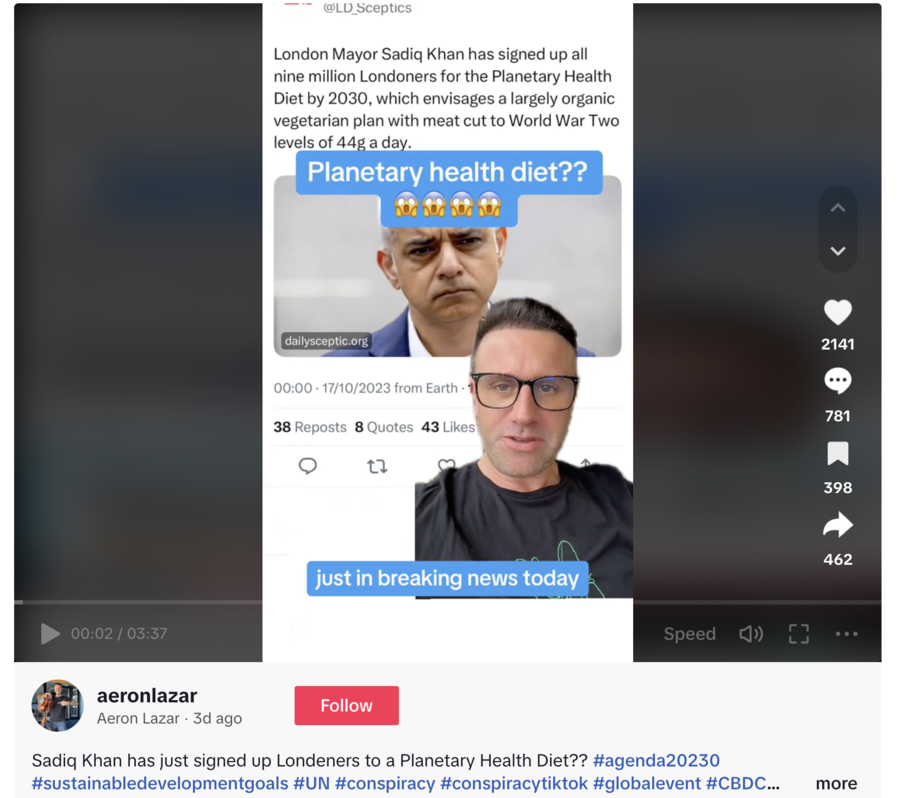 (Source: TikTok screenshot taken on Fri Oct 20 15:47:28 2023 UTC)
Presenting the supposed story as "breaking news," the video's narrator expressed concerns about how "they" will "police" Londoners if people exceed the supposed 44 grams (1.5 ounces) of meat a day. He suddenly switched to discussing central bank digital currencies and suggested they might be used to control amounts of meat consumption not only in London but also on a "planetary" scale, worldwide.
The screenshot seen on the post on TikTok came from the X account (archived here) of an entity describing itself (archived here) as "the non-woke marketing agency." The organization's website contained an article (archived here) linking the "planetary health diet" in London to C40, an association of different mayors working together, as its website (archived here) says, "to confront the climate crisis."
The concept of a "planetary health diet" (PHD) was introduced by the Eat-Lancet Commission. According to a BBC report (archived here), it included "37 leading scientists from 16 countries." The Commission aimed to reach a universally recognized agreement on what diet is beneficial for both human health and the environment. As the BBC article pointed out, the reaction has "not been without criticism." Opponents, for example, said such small portions of meat may lead to nutritional deficiencies in B12 and other important vitamins.
However, contrary to the claim on TikTok, the Commission never pushed for the so-called "vegetarian plan." Its conclusion was that half the diet should consist of fruits and vegetables, while reduced amounts of fish or meat are still acceptable a couple of times a week. That makes the PHD diet flexitarian, not vegetarian -- according to the Mayo Clinic, vegetarian diets exclude meat, poultry and usually fish, and may restrict eggs and dairy, which are all categories allowed in the PHD.
Furthermore, the supposed "new" measure in London is not a recent development, as the claim states. The mayor of London initially announced (archived here) it in 2019.
Back then, Khan specifically said that the PHD concept would be implemented for insitutions to which the city provides food, such as schools. He did not say that the plan would be forced upon all Londoners:
... together with Mayors from 13 other cities, including Los Angeles and Barcelona, I signed a Good Food pledge, which will align food procurement controlled by city authorities to the Planetary Health Diet. This pledge is already in line with policies in my Food Strategy ...
In 2019, Khan explicitly said that, while his administration welcomes a greater inclusion of greens in people's diets, he had no intention of imposing measures to control what people consume, even when it comes to the meals served for the city's employees:
Londoners have the right to choose what they eat, and it would not be right for me to seek to make those choices for them by enforcing particular dietary restrictions on them via the menu in the City Hall café.
The supposedly existing or upcoming bans on popular consumer items are a repeated leitmotif on websites with a lengthy history of publishing factually incorrect information. Lead Stories already reported that Phoenix did not "impose WEF's ban on meat, dairy, private cars" in September 2023, that 14 U.S. cities did not "sign WEF treaty to ban meat, dairy, private cars by 2030" and that the World Economic Forum did not say fashion will be abolished.
All those claims were derived from misinterpretations of the 2019 C40 report. The organization's representatives previously told Lead Stories that the goal was to produce an analysis of different measures aimed at emission reduction, not to order the participating cities to do anything. They could decide what should be implemented and how.