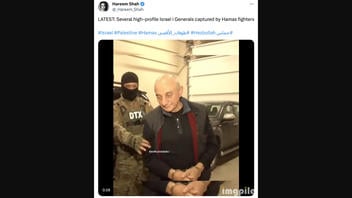 Does a video show several "high-profile Israel i generals" captured by Hamas fighters? No, that's not true: The men in the video are politicians who were arrested in Azerbaijan, as the country's state news agency reported. Video of their arrest was posted on Azerbaijan's state security social media account on October 5, 2023. They are not Israeli citizens and were not captured amid the 2023 Hamas-Israel conflict.
The claim appeared as a post published on X, formerly known as Twitter, on October 9, 2023 (archived here), which opened:
LATEST: Several high-profile Israel i Generals captured by Hamas fighters #Israel #Palestine #Hamas #طوفان_الأقصى #Hezbollah #حماس
This is what the post looked like on X at the time of writing:
(Source: X screenshot taken on Wed Oct 11 18:03:15 2023 UTC)
The men shown in the video are not generals in the Israeli army. They were identified in an ABC News report on October 3, 2023, (archived here) as former separatist leaders from Nagorno-Karabakh.

The footage posted on X matches footage in a video posted on YouTube (archived here) on October 5, 2023, two days before the October 7, 2023, Hamas attack on Israel. The October 5, 2023, video was posted on the official YouTube channel of the DTX, the state security service of the Republic of Azerbaijan. Using Google translation, the headline of the video on YouTube reads, "Persons organizing the activities of illegal armed groups in Karabakh were arrested."
Both the videos on X and on YouTube show three handcuffed men exiting a vehicle. Both videos match in sequence: The first man exits the vehicle at the start of the X video and the same man is shown at 2:27 in the YouTube video; the second man exits at 12 seconds in the X video and 2:37 in the YouTube video; the third man exits at 15 seconds in the X video and 2:41 in the YouTube video.
Azertag, the official state news agency of Azerbaijan, reported the arrest of the three men on October 5, 2023:
It says that reasonable suspicion has been established during the investigation that Arkadi Arshaviri Ghukasyan, Bako Sahaki Sahakyan and Davit Rubeni Ishkhanyan created armed groups in contravention of the legislation of the Republic of Azerbaijan while acting as so-called 'presidents of the Nagorno-Karabakh Republic' and 'interim president' respectively, organized their activities, supplied these illegal armed groups with weaponry, ammunition, explosives, military equipment and hardware, organized raids on offices, organizations and individuals causing the death of people and other serious consequences, illegally acquired, transferred, stored, transported firearms, their parts, ammunition, explosives with full knowledge that money and other property would be used directly and indirectly by these illegal armed groups for the purpose of committing acts of terror by means of their deliberate collection, allocation and distribution.
Other Lead Stories articles on claims related to the 2023 Hamas-Israel conflict are here.