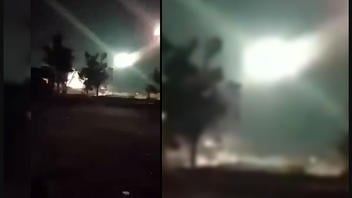 Does this video show a salvo of rockets fired by Hamas from the Gaza Strip toward Israel in October 2023? No, that's not true: This video was posted over three years earlier on YouTube, on February 28, 2020, with a Russian-language caption naming the location as north Syria. Although Lead Stories could not verify that the footage shows rockets that were launched in Syria at that time, the posting date rules out any possibility that it shows the Hamas-Israel conflict of October 2023.
The claim appeared with a video (archived here) posted by Twitter Spaces host and entrepreneur Mario Nawfal on X (formerly Twitter) on October 8, 2023. It was captioned:
JUST IN: Video of a salvo of rockets fired by Hamas from the Gaza Strip towards Israel.
Earlier it was reported that Hamas tried to attack the airport in Tel Aviv. Rockets were also fired at Israeli Ashkelon.


Some of the rockets failed to be shot down: a few minutes ago, one of the rockets hit Ashkelon.
This is what the post looked like on X at the time of writing: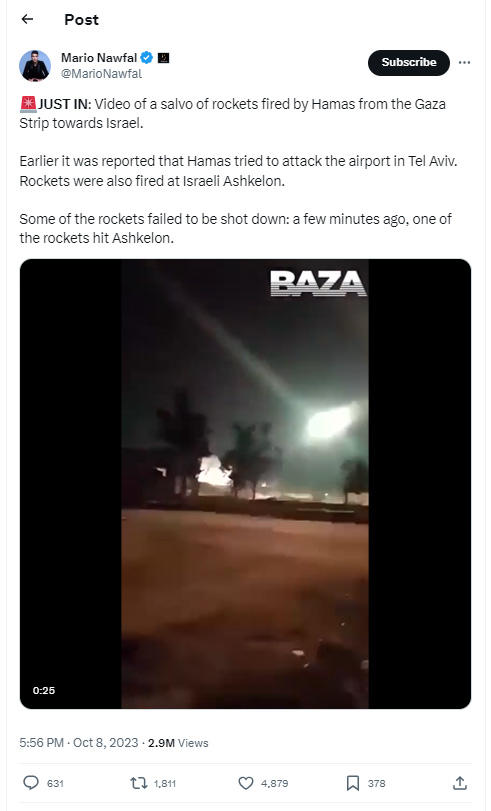 (Source: X screenshot taken on Tue Oct 10 14:30:55 2023 UTC)
Rockets were fired by Hamas into Israel during and after the Hamas attack on October 7, 2023, but this footage does not show the conflict in 2023. This footage was posted to YouTube over three years earlier on February 28, 2020, by a military channel, "Мир на Грани" ("World on the Edge"), which lists a location of Ukraine in the channel's "about" section.
The video
is titled, "ЭТОЙ НОЧЬЮ В СИРИИ БЫЛО НЕ СПОКОЙНО.28.02.2020." The title and the rest of the caption translated by Google reads:
IT WAS NOT CALM IN SYRIA THIS NIGHT.02/28/2020.
4,104 views Feb 28, 2020
#news #politics#peaceborder #news #politics
IN NORTH OF SYRIA. NIGHT. 02/28/2020.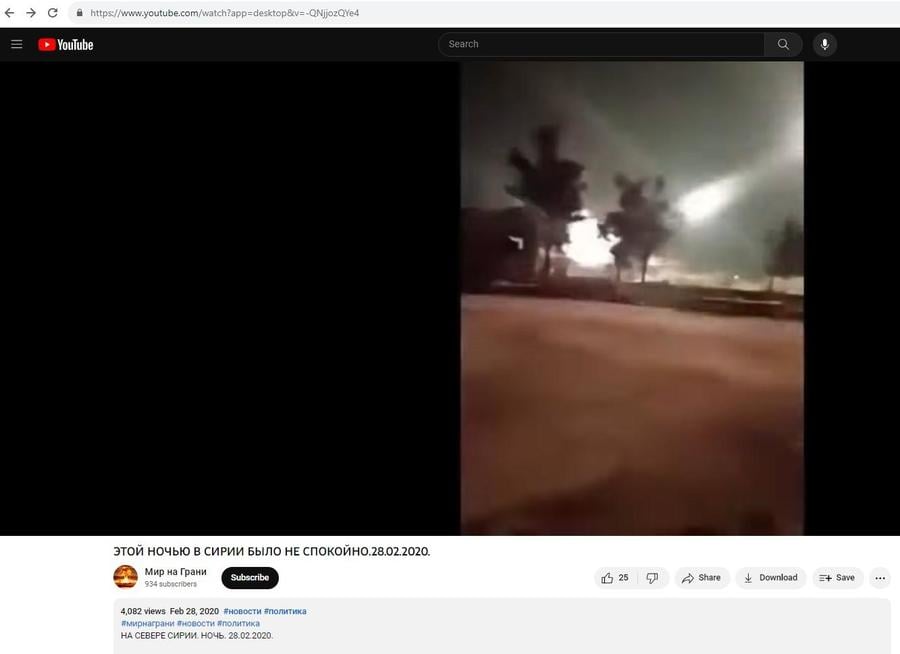 (Source: YouTube screenshot taken on Tue Oct 10 16:28:14 2023 UTC)
Lead Stories has not been able to verify that this footage does indeed match the north Syria caption on the YouTube video, but the timing does align with nighttime airstrikes that were occurring in northern Syria then. A February 28, 2020, article on abcnews.go.com titled "Russia denies responsibility after strikes kill at least 33 Turkish troops in Syria" says the airstrikes occurred overnight on February 27, 2020. ABC reports:
NATO on Friday was holding an emergency meeting at Turkey's request to discuss the situation in Idlib following the incident in which Turkish officials have said at least 33 Turkish soldiers were killed and almost 40 wounded.
The soldiers were in Idlib to support Syrian rebel groups trying to resist a Russian-backed offensive by the Syrian government.
Other Lead Stories articles on claims pertaining to the 2023 Israel-Hamas conflict are here.