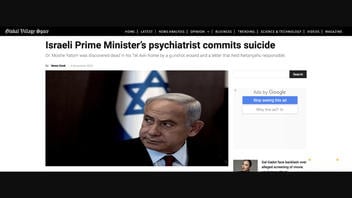 Did Israeli Prime Minister Benjamin Netanyahu's psychiatrist commit suicide in 2023? No, that's not true: This claim was published in 2010 by a blog that labeled its content "News, Commentary and Satire," and it was recirculated online in 2023. There is no evidence that Netanyahu's psychiatrist, if he has one, committed suicide in 2023.
The claim appeared in an article published by Global Village Space on November 6, 2023, titled "Israeli Prime Minister's psychiatrist commits suicide" (archived here), which opened:
Dr. Moshe Yatom, a renowned Israeli psychiatrist celebrated for his work in curing severe mental illnesses, was discovered dead in his Tel Aviv home.
Users on social media only saw this title, description and thumbnail:


(Source: Global Village Space screenshot taken on Tue Nov 14 14:12:27 2023 UTC)
According to the article, Yatom was Netanyahu's psychiatrist. Purportedly, Yatom left a suicide note that "implicated Israeli Prime Minister Benjamin Netanyahu as the source of Yatom's despair."
A Google News search of the keywords "Benjamin Netanyahu AND Dr. Moshe Yatom AND suicide" (archived here) did not yield any results that would support this claim.
The claim was previously posted (archived here) on a blog titled, "legalienate" in 2010 that also claimed that "Dr. Moshe Yatom" had been Netanyahu's psychiatrist and had committed suicide.
Legalienate labeled itself as publishing "news, commentary and satire":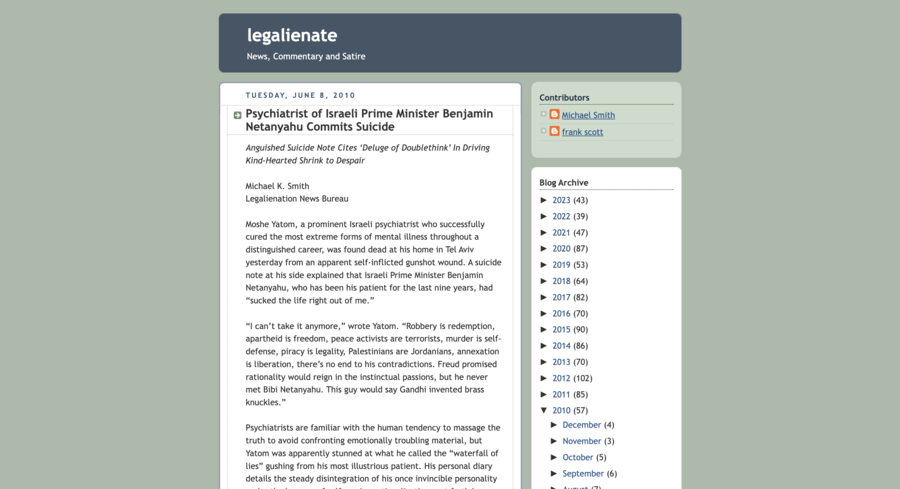 (Source: Legalienate screenshot taken on Tue Nov 14 15:11:44 2023 UTC)
Another version of the same article, also published in 2010, was on another site that labeled the article "political satire."
Other Lead Stories fact checks on Benjamin Netanyahu can be found here and here.