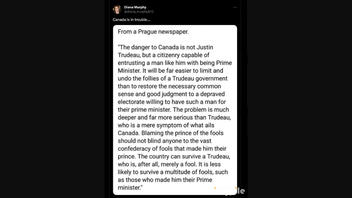 Did a "Prague newspaper" publish an article referring to Canada as a "confederacy of fools" and describing its prime minister, Justin Trudeau, as "the prince of fools" in 2023? No, that's not true: The purported quote is a years-old repurposed fragment of text whose authorship has never been verified. In the past, the same quote was used to criticize other political leaders.
The claim appeared in a post (archived here) on X, formerly known as Twitter, on November 14, 2023. It opened:
Canada is in trouble....
The post contained an image of what looked like a message or an email citing a foreign news outlet:
From a Prague newspaper.

'The danger to Canada is not Justin

Trudeau, but a citizenry capable of

entrusting a man like him with being Prime

Minister. It will be far easier to limit and

undo the follies of a Trudeau government

than to restore the necessary common

sense and good judgment to a depraved

electorate willing to have such a man for

their prime minister. The problem is much

deeper and far more serious than Trudeau,

who is a mere symptom of what ails

Canada. Blaming the prince of the fools

should not blind anyone to the vast

confederacy of fools that made him their

prince. The country can survive a Trudeau,

who is, after all, merely a fool. It is less

likely to survive a multitude of fools, such

as those who made him their Prime

minister.'
This is what the post looked like on X at the time of writing: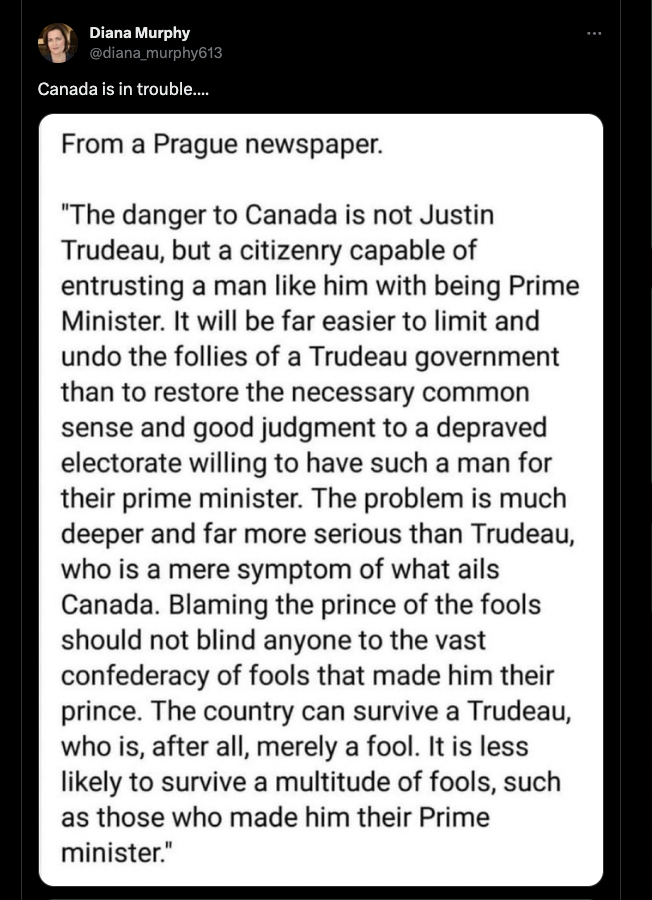 (Source: X screenshot taken on Tue Nov 14 15:16:22 2023 UTC)
This block of text allegedly taken from an unnamed Prague newspaper is a piece of political misinformation that has been in circulation since at least 2009, when then-President Barack Obama was the focus of the passage.
Over the years, different versions of this claim mentioned Obama, Donald Trump and President Joe Biden. However, the targets were not limited to U.S. presidents. The list included public figures from other countries: for example, then-Australian Prime Minister Julia Gillard and then-New Zealand Prime Minister John Key.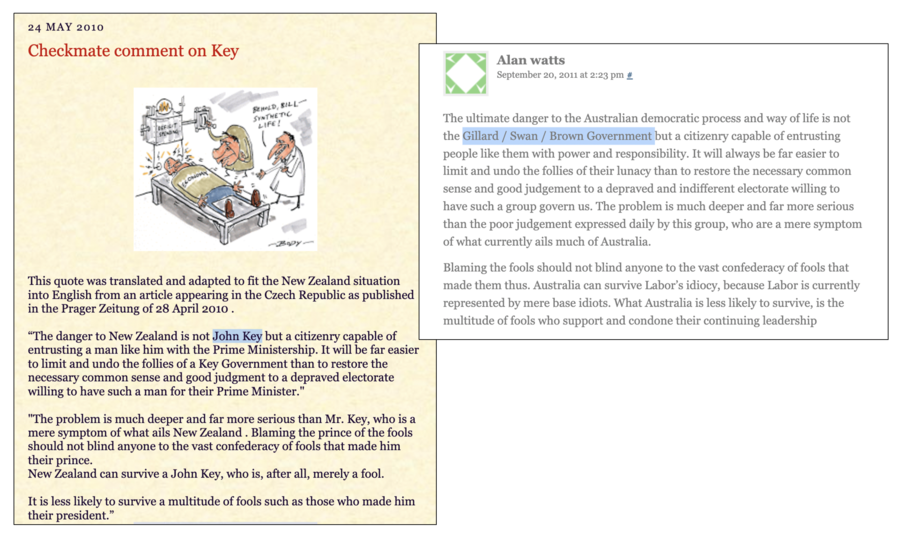 (Sources: Archive.Today screenshot taken on Tue Nov 14 18:22:01 2023 UTC; Archive.Today screenshot taken on Tue Nov 14 18:22:01 2023 UTC; composite image by Lead Stories)
As seen in the left screenshot above, in some instances, the quote was attributed to the German-language Czech news resource Prager Zeitung (archived here.)
As of November 14, 2023, its website did not contain (archived here) any mentions of Trudeau (whose name remains the same if spelled in German):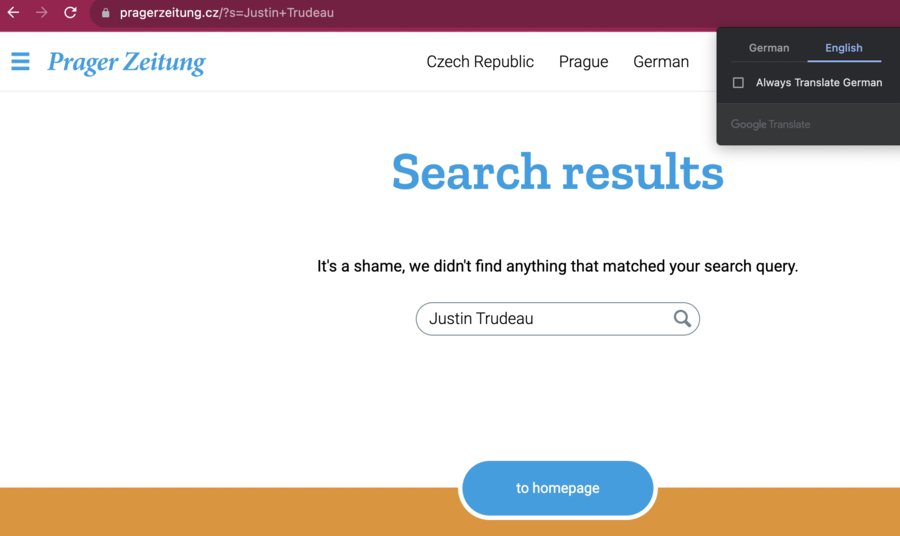 (Source: Prager Zeitung screenshot taken on Tue Nov 14 18:51:23 2023 UTC; the page was automatically translated to English by Chrome)
In 2020, the website's editor-in-chief Marcus Hundt told Reuters that, regarding the resurfacing claim, his news outlet:
has never published such an article ... about Joe Biden nor about Barack Obama.
He added that the Prager Zeitung
primarily reports on events in the Czech Republic and Europe and not on domestic affairs in other counties.
Other Lead Stories fact checks of the stories mentioning foreign countries can be found
here
.