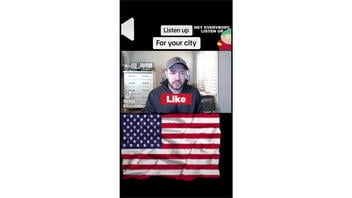 Did the FBI warn about coordinated attacks on more than two dozen American cities by Hamas in the aftermath of the militant group's attack on Israel in October 2023? No, that's not true: The FBI said it hasn't "issued such a warning" and lacks "credible intelligence about coordinated attacks" in the United States by Hamas. Additionally, the FBI director said the agency wasn't tracking an "organized threat" domestically, although extremist groups have made calls for attacks against Americans.
The claim appeared in a post and video (archived here) on TikTok by Damon Kilgore on November 5, 2023, under the title "Listen up for your city." The post's caption said:
Just watch this and thought everyone should know about it so plz share this.#fyp #foryou #foryoupage #fypシ #fy #americanpeople #lookwhatbidenhasdone #needtrumpback
This is what the post looked like on TikTok at the time of writing: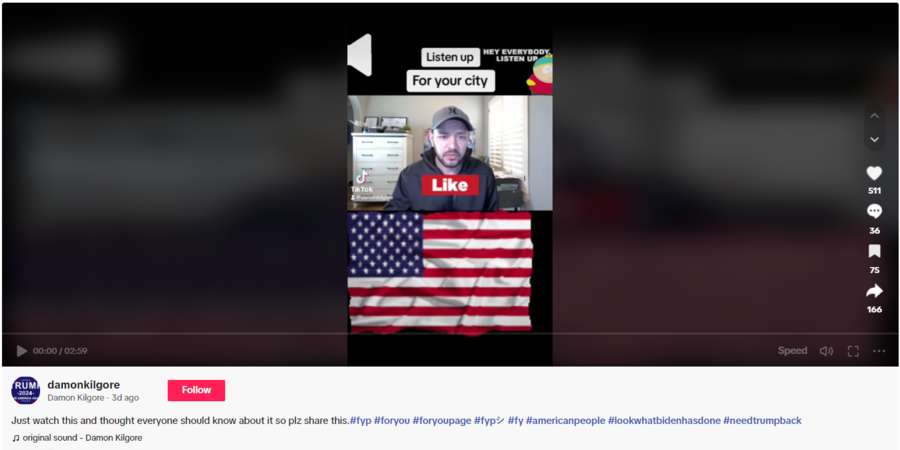 (Source: TikTok screenshot taken on Wed Nov 8 16:09:03 2023 UTC)
In the nearly three-minute video on TikTok, the narrator lays out his case, suggesting that the FBI is warning about possible coordinated attacks by Hamas against dozens of cities in the United States. In part, he said:
They're saying, please be on the lookout. Not only is there concern of physical attacks, of possible attacks on people with devices, but in addition to that, they're saying these are the cities to be mindful of, to watch against attacks against our infrastructure systems for our water, our electrical grids, taking down our airports. They're trying to shut down our systems to wreak havoc on our daily lives on the citizens here on U.S. soil.

And they're saying this is likely the route we'll be going if, by chance, this war continues if there's official war declared ...
The list of "cities to be on the watch" in the video consists of more than two dozen major American metropolitan areas, including Boston, Chicago, Cleveland, Dallas, Denver, Detroit, Houston, Los Angeles, Oklahoma City, Philadelphia, San Diego, San Francisco, Seattle and Washington, D.C. The narrator continued:
When I heard the list, I was shocked at how many cities are on this list, and also, too, what we're hearing is they are planning. This is what they believe now. We will see, and all of this is just hearsay coming out from the FBI.

Like I know a lot of people are saying, is this actually legitimately what's happening, but here's, here's the thing. They're saying that they're planning a coordinated attack. So, in other words, imagine if you will, all of these cities on one day getting hit all at once, not randomly, but a coordinated effort so that way, all of a sudden, one day we wake up and this city gets hit, and this city gets hit, and this city gets hit. All of them coordinated at the same time to wreak havoc all at once on one day. And that is what they're saying to watch for.
And while Kilgore only implies in the video that he's talking about Hamas, in the comments section of the post on TikTok, he makes his intentions clear. He said:
The FBI director warned attacks from Hamas and Iran could be coming to the United States as a result of US support for Israel in the Middle East.
Here's a screenshot of his comments from the post:

(Source: TikTok screenshot taken on Wed Nov 8 23:14:35 2023 UTC)
FBI
Asked about the social media claim involving Hamas, the FBI National Press Office provided this response in a November 8, 2023, email to Lead Stories. It said:
The FBI has not issued such a warning and we do not have credible intelligence about coordinated attacks in the U.S.
Additionally, the FBI issued the following statement on October 9, 2023 (archived here), just two days after the Hamas attack on Israel. In part, it said:
While the FBI does not have specific and credible intelligence indicating a threat to the United States stemming from the Hamas attacks in Israel, we are closely monitoring unfolding events and will share relevant information with our state, local, federal and international law enforcement, intelligence and homeland security partners to ensure they are prepared for any impacts to public safety. We will not hesitate to adjust our security posture, as appropriate, to protect the American people.
During testimony to Congress on October 31, 2023, FBI Director Christopher Wray cautioned that the Hamas attack in Israel could serve as inspiration for violence within the United States. Speaking before the Senate Homeland Security Committee, he also mentioned that multiple foreign extremist groups have recently issued calls for attacks against Americans and the Western world. An Associated Press report attributed the following information to Wray:
Though the FBI isn't currently tracking an 'organized threat' inside the United States, law enforcement is concerned about the potential of attacks by individuals or small groups, as occurred during the rise of the Islamic State in Syria and Iraq a decade ago.

The bureau has already seen an increase in attacks on overseas military bases and expects cyberattacks targeting American infrastructure to get worse as the conflict expands, he said.

'It is a time to be concerned. We are in a dangerous period,' Wray said. 'We shouldn't stop going out, but we should be vigilant.'
Read more
Other Lead Stories fact checks involving the Hamas-Israel conflict can be seen here.