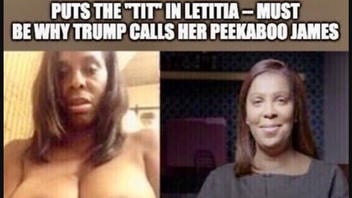 Does a topless photo show New York Attorney General Letitia James? No, that's not true: This photo does not show James, but Stacey Plaskett, the U.S. delegate to Congress from the Virgin Islands, who was a victim of cybercrime. Two disgruntled ex-staffers pleaded guilty to federal cyber-related charges and were sentenced in 2018 for hacking her phone and disclosing private and sexual images.
The mislabeled photo resurfaced in a post (archived here) published on X by @Dandp1014 on November 8, 2023. It was captioned:
LATITI JAMES IS TRYING TO REMOVE HER NUDE BATHROOM SELFIE! LETS MAKE IT GO VIRAL!
This is what the post looked like on X, formerly Twitter, at the time of writing: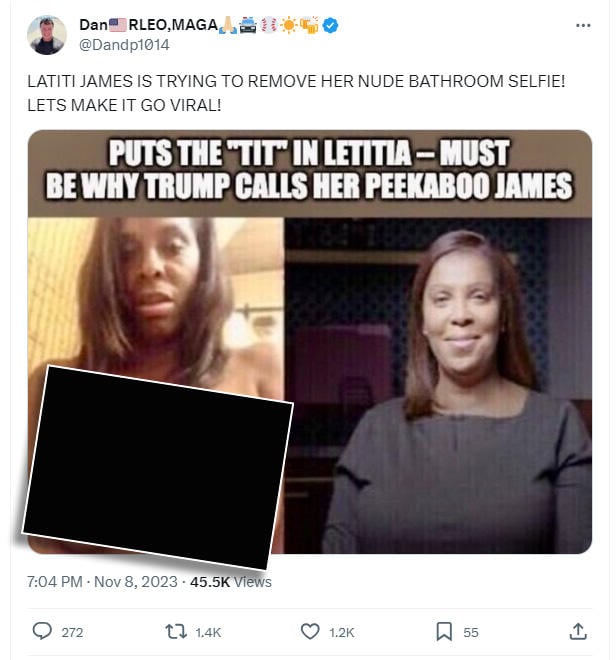 (Source: X screenshot with screen added by Lead Stories taken on Thu Nov 9 14:29:30 2023 UTC)
A reverse image search of the topless photo returns results dating back years including a thread on 4chan /pol/ Politically Incorrect from 2018. These early instances of the photos posted online identify the woman as Congresswoman Stacey Plaskett.
A statement was issued from Plaskett's office in the form of a press release (archived here) on July 21, 2016, acknowledging the theft of her private photos. The congressional delegate was quoted as saying:
The theft and distribution of these personal images via the internet marks a new low in Virgin Islands politics. I am shocked and deeply saddened that someone would stoop to such a level as to invade my marriage and the love of my family in an attempt to besmirch me politically.

Private photographs shared between my husband and me, as well as a private playful video of our family, including one of our children, were illegally obtained and disseminated via the internet. To say my family and I are greatly upset would be a tremendous understatement. As a mother I am outraged that one of my children was exploited in such a way. The theft and dissemination of these images via the internet is a shockingly disgusting invasion of my family's and my privacy - not to mention criminal acts in violation of both territorial and federal law.
A press release from the U.S. attorney's office in the District of Columbia on March 8, 2018 (archived here), announced the sentencing of Juan R. McCullum, one of the two former staffers who were co-defendants in the case. Both defendants pleaded guilty to several charges. McCullum was sentenced to a year and a day in prison and two years probation. From the press release:
Juan R. McCullum, 36, of Washington, D.C., pled guilty in January 2018 to two federal cyber-related charges and two District of Columbia offenses, including conspiracy to disclose sexual images and attempted first-degree unlawful publication of a sexual image. He was sentenced by the Honorable John D. Bates in the U.S. District Court for the District of Columbia.
The second defendant, Dorene Browne-Louis, was not sentenced until April 23, 2018. A CBS News report published on April 24, 2018 (archived here) said that Browne-Louis was sentenced to two years supervised probation and ordered to pay a fine.