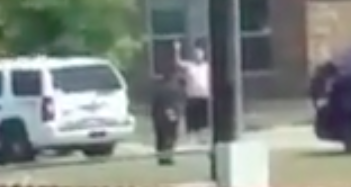 Cell phone video appears to show a man holding his hands up -- in what looks like a surrender -- just before two Bexar County, Texas, deputies shot him to death. The video handed over to San Antonio TV station KSAT seems to contradict what investigators initially told reporters -- that the suspect in a domestic disturbance was killed only after non-lethal force failed to stop his resistance to arrest.
"Certainly what's in the video is a cause for concern, but it's important to let the investigation go through its course so that we can assure a thorough and complete review of all that occurred," Bexar County Sheriff Susan Pamerleau said.
Two deputies, both 10-year veterans of the Bexar County Sheriff's Department, were placed on administrative leave while the shooting is investigated. Both have been with the department for at least 10 years, according to KSAT-TV.
Watch the full report from KSAT-TV.
Lead Stories' Trendolizer constantly scours social nets for the hottest trending content about police shootings. Scroll down to see the latest.