Lead Stories' Trendolizer detected as trending on social nets a quote attributed to Donald Trump saying in 1998 that if he ever ran for president it would be as a Republican because they are "the dumbest group of voters in the country" and he "could lie and they'd still eat it up."
While Trump is known for statements that offend various people and groups, there is NO evidence he said this as purportedly quoted in People Magazine: "If I were to run, I'd run as a Republican. They're the dumbest group of voters in the country. They believe anything on Fox News. I could lie and they'd still eat it up. I bet my numbers would be terrific."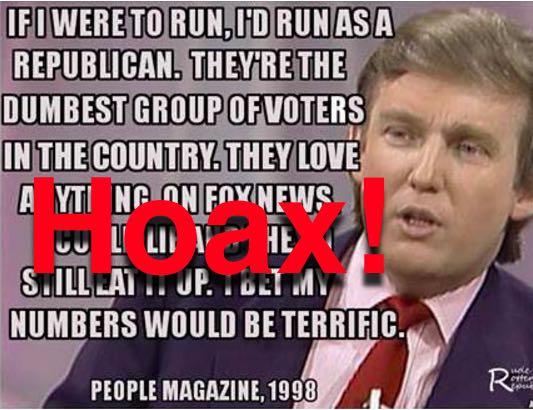 People archives don't have it and there are no online records of it.
Another clue is the idea that in 1998 Republicans "believe anything on Fox News." The cable channel was in its early years then and had not yet gained the reputation as a conservative influencer that it earned after the 9/11 terror attacks in 2001.
The quote also conflicts with what Trump told Larry King in a 1999 CNN interview, when he was seriously talking about a presidential run.
"I'm a registered Republican. I'm a pretty conservative guy. I'm somewhat liberal on social issues, especially health care, et cetera, but I'd be leaving another party, and I've been close to that party ... I think that nobody is really hitting it right. The Democrats are too far left. I mean, Bill Bradley, this is seriously left; he's trying to come a little more center, but he's seriously left. The Republicans are too far right. And I don't think anybody's hitting the chord, not the chord that I want hear, and not the chord that other people want to hear, and I've seen it."
Bottom line: Just because it's trending, doesn't mean it's true.