Wilma Black's obituary describes her 94 years of life as a "soap opera" and it offers details on the characters and events that made it so. The The North Carolina woman's obit published in Charlotte's News & Observer has been taken off the newspapers website, but only after it went viral online.
It appears Black had help preparing the obituary, considering it referred to her last weeks and her burial.Black, born in 1921, died December 22, 2015, but she was not buried until after her son "and his mistress returned from their Dec. 25 vacation trip to Oregon," it said.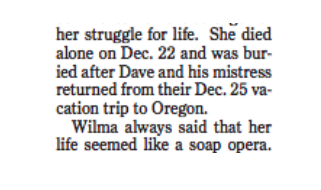 She also criticizes her son for putting her into an assisted care facility, which the obit suggested he chose because it was "convenient to his work." It quoted Black telling her son: "This is not living it's existing."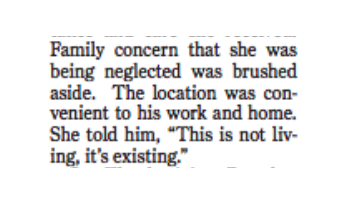 Black's bitterness also reached back to her marriage, which the obituary says started in 1939 as a way for her new husband to cover "for his sexual affair with their minister's wife." The cheating continued until Black divorced her husband in 1969, the obit says.
The newspaper tells a Charlotte TV station that it pulled the obituary from its website because of complaints from a family member about it's accuracy.
The N&O has apparently pulled the Wilma Black obit from its website. Here's how it appeared in print today. pic.twitter.com/BZjQkwv2iP

-- Andy Bechtel (@andybechtel) January 7, 2016