A single gunmen killed at least 50 people and wounded another 53 in what the FBI calls "an act of terror" in an Orlando, Florida, night club early Sunday morning. Police raised the death toll -- first reported as approximately 20 -- after completing a body count inside the building.
The first names of the dead who have been identified and their families told were released Sunday afternoon via a webpage set up by Orlando city leaders.
The attacker was 29-year-old Omar Saddiqui Mateen, whose family is from Afghanistan but who was born in New York, according to the FBI. The FBI "first became aware" of Mateen, who lived in Fort Pierce, Florida, in 2013. The FBI denied it was searching for a second suspect.
Suspect identified as Omar Mateen, 29. An American citizen born in New York. @FBI first became aware of him in 2013 pic.twitter.com/gt18lhTM4G

-- Orlando Police (@OrlandoPolice) June 12, 2016
Mateen legally purchased his weapons in recent days, the ATF said.
ATF: The gunman legally purchased the firearms within the last week. In Florida.

-- Orlando Police (@OrlandoPolice) June 12, 2016
President Obama, in a live statement at the White House, said it was being investigated as an act of terror. "What is clear is that he was a person filled with hatred," President Obama said.
Mateen called Orlando's 911 emergency center and pledged allegiance to the terror group ISIS and mentioned the Boston Marathon terror bombings just as he was attacking, according to law enforcement.
While 11 victims died on the way or at hospitals, 39 bodies were found dead while police searched the inside the club later.
The shooter's ex-wife told investigators Mateen had anger issues.
Mateen's father, Mir Seddique, told NBC news that the attack "has nothing to do with religion, but was motivated by his son's anger after he recently saw two men kissing in Miami. "We are saying we are apologizing for the whole incident," Seddique said. "We weren't aware of any action he is taking. We are in shock like the whole country."
The Orlando attacker was trained in the use of weapons, the chairman of the congressional Homeland Security Committee Rep. Peter King told CNN.
Mayor Dyer: 50 dead in Pulse nightclub shooting. @ChiefJohnMina Suspect had handgun and AR15 type rifle.

-- Orlando Police (@OrlandoPolice) June 12, 2016
A CNN source said Mateen worked as a private security guard. Mateen was a licensed security guard who weed for a company that guarded government buildings, CNN reported.
Omar Mateen worked as a security guard in Fort Pierce, Fla. He rented a car and traveled to Orlando to carry out #PulseNightclubShooting

-- Evan Pérez (@evanperez) June 12, 2016
Rep. Devin Nunes, chairman of the house special committee on intelligence said indications are the attack was motivated by radical Islamic beliefs and is similar to the Paris nightclub attack last year.
Watch President Obama's statement on the attack:
. @POTUS on #Pulseshooting "Today marks the most deadly shooting in American history." pic.twitter.com/OqH2dGuoiX

-- Orlando Police (@OrlandoPolice) June 12, 2016
The terrorist, armed with an AR-15 assault-type rifle and a handgun, was killed by a police SWAT team after a standoff at Pulse, a gay night club. The attacker engaged in negotiations with Orlando police, making demands in exchange for hostage releases, before he was shot and killed by an Orlando officer. That officer was saved from the shooter's bullets by his Kevlar helmet, police said.
Pulse shooting: In hail of gunfire in which suspect was killed, OPD officer was hit. Kevlar helmet saved his life. pic.twitter.com/MAb0jGi7r4

-- Orlando Police (@OrlandoPolice) June 12, 2016
Investigators are looking at the shooters possible ties to a radical islamic group, although an FBI agent said it was being investigated as possible "domestic terrorism."
"We do have suggestions that that individual may have leanings toward that particular ideology," FBI Assistant Special Agent-in-Charge Ron Hopper told reporters. "But right now we can't say definitively, so we're still running everything to ground." Agent Hopper said the shooter, who was not from Orlando, was "organized and well-prepared."
Florida Department of Law Enforcement Special Agent in Charge Danny Banks said it is not yet known if the attacker was a "lone wolf" or if he had accomplishes.
The Pulse night club, in downtown Orlando, bills itself as "Orlando's Premiere Gay Ultra Lounge, Nightclub, and Bar." The club posted an urgent warning on it's Facebook page warning patrons to stay away as the attack began.
One man who was in the club with the gunfire began at 2 a.m. described how he escaped.
"People on the dance floor and bar got down on the floor and some of us who were near the bar and back exit managed to go out through the outdoor area and just ran," Ricardo Almodovar said in a Facebook post. "I am safely home and hoping everyone gets home safely as well."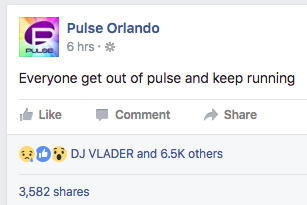 About 30 people inside the club survived the attack.
The shooting continues a violent weekend in the central Florida city. A 27-year-old man shot and killed singer Christina Grimmie and then killed himself after a concert at an Orlando concert Friday night.