UPDATE: Donald Trump is now personally defending the initial tweeting of the controversial meme, blaming "Dishonest media" for not realizing the image was not a Star of David. It could have been "a Sheriff' Star, or plain star!" the tweeted.
Dishonest media is trying their absolute best to depict a star in a tweet as the Star of David rather than a Sheriff's Star, or plain star!

-- Donald J. Trump (@realDonaldTrump) July 4, 2016
Original Story:
The controversial "Star of David" meme tweeted by Donald Trump and quickly deleted Saturday was published more than a week earlier on a message board for neo-Nazis, anti-Semites and white supremacists, according to Mic.com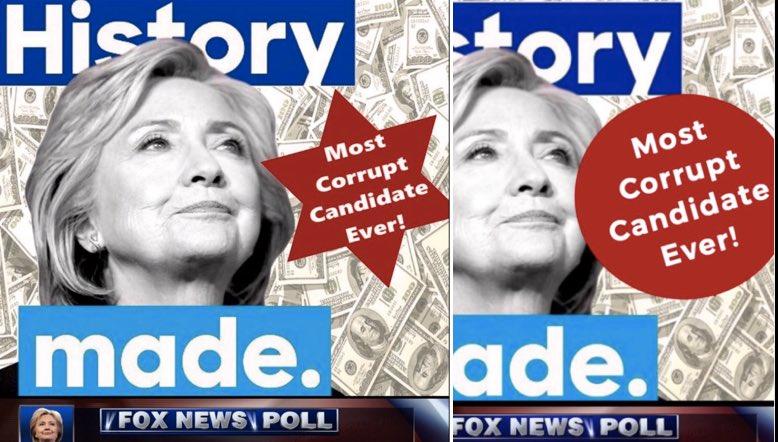 The graphic attacks Hillary Clinton as the "Most Corrupt Candidate Ever!' -- with this words inside a red six-point star laid over a background of money. While Trump aides say it was just a star -- perhaps a sheriff's badge -- anti-Trump eyeballs saw the jewish Star of David as a "dog whistle" to attract antisemitic support.
Trump, who usually doubles down when accused of political incorrectness, actually backed down after "Star of David" trended on Twitter, calling attention to the controversy. He deleted the controversial tweet and tweeted a new one with the star replaced by non-controversial circle. It was a sloppy fast edit job, since you can still see a point of the star sticking out of the bottom of the circle.
Crooked Hillary -- Makes History! #ImWithYou #AmericaFirst pic.twitter.com/PKQhYhMmIX

-- Donald J. Trump (@realDonaldTrump) July 2, 2016
Mic.com discovered the meme posted on the /pol/ message board on June 22, 2016.
Of note is the file name of the photo, HillHistory.jpg, potentially a nod to the Neo-Nazi code for "HH," or "Heil Hitler," which the alt-right is fond of hiding in plain sight.

The watermark on the lower-left corner of the image leads to a Twitter account that regularly tweets violent, racist memes commenting on the state of geopolitical politics.
See also: Donald Trump's Tweet Retreat: Replaces Star Of David With Circle Amid Political Correctness Furor