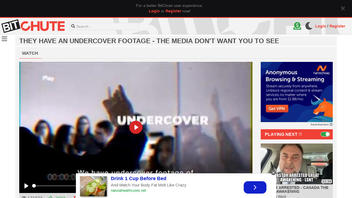 Does an anti-vaccine advocate prove his claims of vaccine dangers with "undercover" video of private World Health Organization meetings and does he provide credible citations of scientific research to prove his claims? No, that's not true: The video caption promises "an undercover footage - the media don't want you to see" but delivers less than a quarter-minute -- without audio.
Viewers can't tell what is being discussed by whom in the fuzzy footage. In the video featuring the grainy and silent clip, doctor of osteopathy Rashid Buttar makes several claims that are not supported by the research that underpins medical science's best practices. He provides no citations of accepted research proving his assertions that polio was not eradicated by vaccination, that vaccines contain the same active ingredient found in herbicides and that the increased number of autism diagnoses in recent years is proof of something other than changes in definitions and increased awareness of the highly variable condition.
The claims appear in a BitChute video posted May 9, 2021 (archived here), on the Dr. Charlie Ward account titled "They Have an Undercover Footage - The Media Don't want You to See," which opened:
DISCLAIMER! The views, information or opinions expressed during this video are solely those of the individual involved and do not necessarily represent those of Inspire Discipline. Inspire Discipline is not responsible and does not verify for accuracy of this information.
Users on social media only saw this title, description and thumbnail:
???? Charlies FREE Newsletter https://DrCharlieWard.com ???? Get the latest information on 5G at https://bit.ly/2GFQVvQ ???? ???? FREE 1oz SILVER COIN OFFER UK http://bit.ly/free-1oz-silver-coin ???? Order Charlies book here http://www.imjustcharlie.com ???? http...
The video begins with ominous music and 10 seconds of video of a conference room or classroom. Viewers can't hear what, if anything, is being said there, while Buttar's voiceover says:
­­We have undercover footage of the WHO in their private forum talking about how the confidence level among the physician community, worldwide is decreasing. The WHO is trying to decide on a strategy, a marketing campaign. When you have to have a marketing strategy to convince the health professionals, those who have been appointed to safeguard our health and our children's health, you know that there's something that doesn't smell right.
Buttar does not provide a link to the full video, a transcript nor any other way for viewers to confirm for themselves that the video is what he says it is. He also provides no data to support his claim that there is declining support for vaccination among medical professionals, as opposed to marketing and other efforts as part of customary public health programs to boost vaccination rates.
In general, public health officials seek the highest vaccination rate possible in order to give infectious disease fewer and fewer hosts through which to spread. Vaccination campaigns have often faced resistance from religious objectors, science deniers and people who are scared of needles. At the end of the 18th century, cowpox vaccination was tested in England, but as Nature reports in reviewing a book about vaccination, it was resisted as a "foreign assault on traditional order." More than a decade before the COVID-19 outbreak, medical journals like JAMA Pediatrics were publishing research into the best ways to increase vaccination rates.
Polio claim
At 1 minute, 14 seconds into the video, Buttar says polio was caused by the pesticide DDT and that the polio vaccine did not eradicate the disease. He provides no data and no citation of any scientific study establishing the DDT link or debunking the effectiveness of polio vaccine.
Vaccination is, among medical professionals, universally hailed as the key to defeating polio and several other infectious diseases. With near-universal immunization, polio is one of a handful of childhood diseases considered to have been defeated through immunization, as this European certification declared in 2002.
Herbicides in vaccines claim
"They have RoundUp, the weed killer, in vaccines," Buttar says in a long passage beginning at 3 minutes, 30 seconds. He says he is not anti-vaccine, just opposed to vaccines that include chemicals he considers hazardous, like glyphosate.
In a May 21, 2021, email, Food and Drug Administration press officer Veronika Pfaeffle referred Lead Stories to the FDA's memorandum spelling out approval of Moderna's COVID-19 vaccine. Nowhere in the document does the FDA say it found the weed killer in the vaccine.
The findings of Moms Across America, an anti-vaccine group, that the pesticide is in vaccines, have been challenged by fact check organizations like Full Fact and by scientists at the Genetic Literacy Project.
Even if it is, regulatory agencies differ on the degree to which RoundUp, whose main active ingredient is glyphosate, is a carcinogen or health hazard. Although some countries have classified it as a possible or likely carcinogen, a major conference of the World Health Organization could not reach a definite consensus:
The Meeting concluded that glyphosate is unlikely to be genotoxic at anticipated dietary exposures. ... The Meeting concluded that glyphosate is not carcinogenic in rats but could not exclude the possibility that it is carcinogenic in mice at very high doses. In view of the absence of carcinogenic potential in rodents at human-relevant doses and the absence of genotoxicity by the oral route in mammals, and considering the epidemiological evidence from occupational exposures, the Meeting concluded that glyphosate is unlikely to pose a carcinogenic risk to humans from exposure through the diet.
Autism claims
At 38 seconds into the video, Buttar begins a segment about autism. The Centers for Disease Control and Prevention's "own data shows that 1% of the population of the planet currently has autism," he says. "... In 29 years to go from 1 in 10,000 to 1 in 30 ... there's something wrong."
Buttar leaves important context out of his talk that is crucial to understanding autism statistics.
Anti-vaccination activists often blame the increase in autism diagnoses on various preservatives and other components of childhood vaccines. But the CDC and others who monitor autism note that since the condition was first described in the 1940s, parents, physicians and teachers have become increasingly aware of it and are more likely to identify autism symptoms than in the past. The CDC makes it clear there may be several factors influencing the number of autism diagnoses.

In a Frequently Asked Questions webpage, the CDC clearly states there is no documented relationship between autism and vaccination. The CDC says it is as yet unclear if the prevalence is on the rise:
More people than ever before are being diagnosed with an ASD. It is unclear exactly how much of this increase is due to a broader definition of ASD and better efforts in diagnosis. However, a true increase in the number of people with an ASD cannot be ruled out. We believe the increase in the diagnosis of ASD is likely due to a combination of these factors.

CDC is working with partners to study the prevalence of ASD over time, so that we can find out if the number of children with these disorders is rising, dropping, or staying the same.