There is a NOT TRUE story making the rounds on the internet about a crazed man attacking dancers at a strip club with a needle containing the AIDS virus. NOT TRUE. The story comes from a known hoax site, but some people don't take note of that.
The NOT TRUE story states:
A Las Vegas man is now under arrest after a heinous attack on several females at a Las Vegas strip club. Frederick Manson, 34, arrived at the Olympic Gardens Gentlemen's Club in the early morning hours of February 17th with several thousand dollars. He requested dance after dance and spent nearly $3000 in two hours, according to reports. It was around 4:30 AM he began getting "very agitated" and telling the girls that they "reminded him of his mother, a cheap whore."
The NOT TRUE story continues:
That's when eyewitnesses say Manson retrieved several needles from his fanny pack and began stabbing the girls, one by one, injecting them with the fluid inside the syringe. According to reports, he was yelling, "Now you have AIDS like my cheap whore mother who danced on a stage like this while she was pregnant with me. I was born in a strip club and no one even cares! I hate you b*tches!!" Manson injected 11 girls before he was tackled by club security. The police were called, and the crazed man was taken into custody.
The image that is associated to the story of the dancer actually comes from a TRUE story from 2014, and is used as a standard stock image for stories involving strip clubs in Las Vegas. The image is a courtesy photo from the Crazy Horse III in Las Vegas.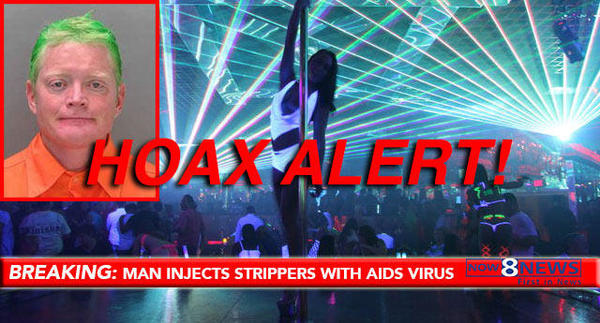 As for the mugshot inset, altough at the moment we are unable to find the source but the earliest we can find it being used is in a post to eBaum's World back in 2008. We'll keep searching for the source but know that it is NOT RELATED TO the hoax story above.
Lead Stories: We don't fuel the fire, we foil the fake.
Lead Stories' Trendolizer™ is constantly scouring the web for the hottest news, viral videos and images.
Follow us on Facebook and Twitter @LeadStoriesCom for your daily news.