There is a HOAX STORY roaming the interwebs about the guy that tried to bum-rush Donald Trump being revealed as Jake from the State Farm commercials. The story comes from a known hoax and silliness site but people aren't always aware of that.
The trending NOT TRUE story starts with "Police have finally released the name of the man that tried to attack Donald Trump at one of his rally's a couple days ago." That in itself is enough to debunk this story because the police identified the man involved in the incedent within a few hours.
The FAKE story goes on:
His name is Jack Stone and he is actually the dude from the state farm commercials known as "Jake from State Farm." Apparently Mr. stone is a member of an Anti trump group and hates Donald Trump. He believes if Donald Trump is elected President Of The United States that Trump will ruin our Country.
Although the two men do look similar side by side, NOT TRUE.
Police asked Stone what he was going to do if the secret service had failed to stop him and he replied with: "I WAS GOING TO KNOCK THAT RACIST BASTARD THE F**CK OUT!" Jack stone has been charged with attempted assault against a Presidential Candidate.
The image of the attacker used in the story is of Tommy Dimassimo, who was charged with inducing panic and disorderly conduct. Dayton, Ohio, police released this mugshot. The image of "Jake from State Farm" is a screen grab from the commercials starring Jake Stone.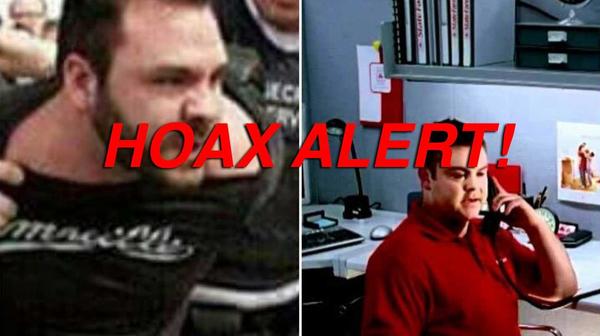 Lead Stories' Trendolizer™ is constantly scouring the web for the hottest news, viral videos and images.
Follow us on Facebook and Twitter @LeadStoriesCom for your daily news.