Another grisly hoax is making the rounds online. This fake story is about a 'Gretchen Schneider', a 64-year old grandmother from New Jersey who was babysitting her four-week old granddaughter while her own daughter ('Amber Williams') went on a dinner date with her husband. But the horror-granny was under the influence of drugs and she allegedly ate the little baby.
Amber Williams was later quoted as saying:
My mom was a former drug addict, our childhood was not easy. "But I never... I mean never... expected my mom to do something so horrific. She was on drugs when I was younger, but nothing like this. If I would've known that, I would've never left my baby with her. I thought she was one year clean.
When shared on social media the story looks quite legitimate, but Now8News is not a real news site or television broadcaster: it is a site specializing in posting totally invented, fake news stories that disgust, shock or offend people into sharing them on social media.
NEWS 8 - A New Jersey grandmother of 8 and recovering drug addict, is now in custody after she allegedly ate her daughter's newborn baby. Gretchen Schneider, 64, was babysitting her 4-week old granddaughter and was unknowingly under the influence of drugs, according to her daughter Amber Willia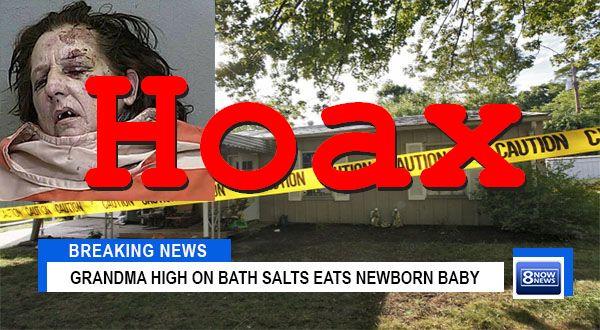 Analysis of the photo that was used with the story reveals the mugshot to be from a before-after montage of meth users, specifically picture 18 in this gallery, while the crime scene was taken from a story about a home intruder shot by the owner in Jonestown, Ohio.
So don't believe everything on the internet, and think before sharing. Don't smoke the bath salts like all these people: