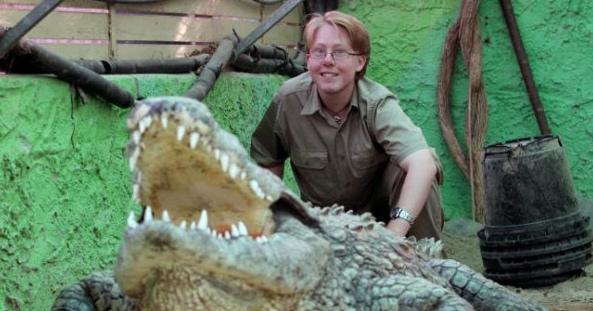 There is a rather disturbing story floating around the interwebs claiming a man was killed while trying to rape an alligator. While hoax stories involving beastiality have become more and more common, they are usually still a croc of bull.
This story was found on worldnewsdailyreport, a known hoax website that publishes fake content for entertainment purposes ONLY. Click here for a link to their disclaimer.
The HOAX story claims that a zookeeper in Florida was killed while trying to make sexy time with an alligator... After reviewing the information provided in the FAKE news story, Lead Stories found that the man pictured in the above image is actually Gavin Hart -- a Scottish man who works at a Crocodile Park in Torremolinos, Spain.
Needless to say, the animal in the above image is a crocodile, not an alligator; and the picture was taken in Spain, not Flordia.
Additionally, (and rather humorously) the name of the zookeeper in the UNTRUE story is Jimmy Olsen, a fictional photojournalist in DC Comics.
In reality, the man pictured is a 22 year old reptile enthusiast who landed a sweet job at a Crocodile Park. The croc shown is named "Big Daddy", and is Europe's largest croc in captivity.
Here is a video of the young zookeeper at the croc park in Spain:
Follow us on Facebook and Twitter @LeadStoriesCom for your daily news.