There is a trending hoax story that is a rehash from last year, using different images. The story alleges "Woman Beats up Boyfriend for Having Female Followers on Instagram." This scenerio has possibly happened in the real world so we can only debunk this particular NOT TRUE story.
The NOT TRUE story alleges "A Florida woman, Nemoquisha Parker, decided to take matters into her own hands and beat her boyfriend badly for simply having women followers on his Instagram account." Continuing with a quote from Nemoquisha:
While my boyfriend was taking a sh*t, I was snooping through his phone and noticed he had a bunch of women followers on Instagram. When he came out, I quickly confronted him about these random HOES THAT FOLLOWED HIM!"
The last piece of the HOAX story goes for the jugular:
I beat that n*gga like a house slave," said Nemoquisha to the Fort Lauderdale Police. "I gave him one of those old school Kimbo Silce beat downs I seen on Youtube and pulled out some of his dreads! My boyfriend was also screaming 'Black Lives Matter' but I kept whooping his a** anyway."
This rubbish is actually being liked and shared on the internet. The inset mugshot of the man is actually from a South Carolina site where the subject was charged with "BURGLARY AFTER JUNE 20, 1985) - FIRST DEGREE." As for the woman pictured, the image comes from the same website as the man's image where she was charged with "FAILURE TO APPEAR." I guess the hoaxers are into the same color of orange and Myrtle Beach.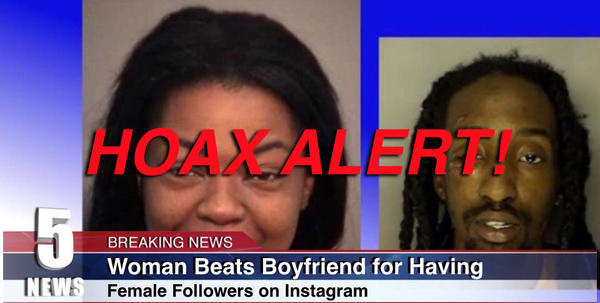 Lead Stories' Trendolizer™ is constantly scouring the web for the hottest news, viral videos and images.
Follow us on Facebook and Twitter @LeadStoriesCom for your daily news.