There is a HOAX story on the internet stating "Husband Stabs Wife 37 Times for Refusing to Make Direct Eye Contact with Him." This version of the NOT TRUE story comes from a website that often publishes satire/hoax stories, but some people are unaware of that and take it as totally legit.
Part of the NOT TRUE story:
Kalamazoo, Mississippi - A 38-year-old Nigerian man, Dikembe Mutombo, was arrested and booked on charges of first-degree murder after his girlfriend was found dead in their Monroe St. home over the weekend. According to reports, neighbors called 911 and reported a domestic disturbance after they heard shouting from Mutombo residents. "According to Mutombo's confession, he complained that Awatta would not make eye contact with him when he was trying to have a conversation with her.
The images used in the HOAX story is actually of Dorothy Anning, "A Ghanaian girl who had life-changing surgery to remove a tumor that grew behind her eye is now training to be a medic herself as she wants to help those with similar deformities." It's unfortunate that these real images of hope & success are being used to promote fake hate & violence.
Below is another image from the TRUE story of Dorothy Anning: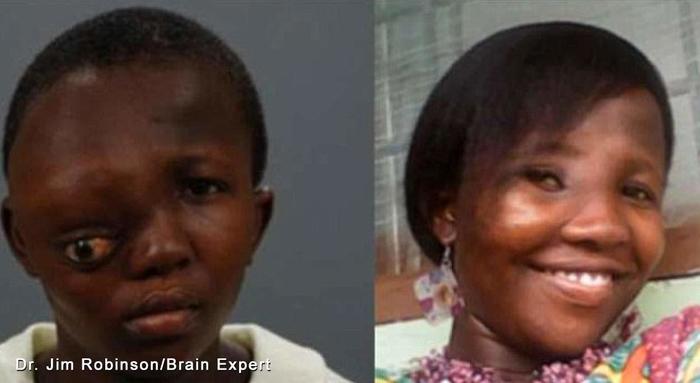 Lead Stories' Trendolizer™ is constantly scouring the web for the hottest news, viral videos and images.
Follow us on Facebook and Twitter @LeadStoriesCom for your daily news.