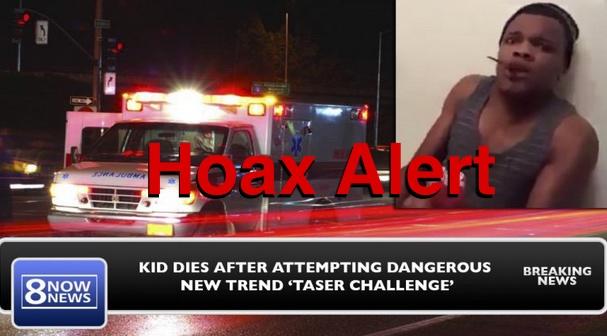 Lead Stories' Trendolizer has detected a trending HOAX story that claims a teen died while attempting the 'taser challenge'. This story was published by known hoax website Now8News and is NOT TRUE.
A 17-year-old boy, Trayton Smith, tragically lost his life after attempting an extremely dangerous challenge that has gone viral across the Internet. The 'Taser Challenge' encourages people to place a metal butter knife in their mouth and shock it with a Taser gun. It has been leaving its challengers with brain damage, nerve damage and in this case death.
Here is the video that was embedded into the hoax, conveniently published from Now8News' youtube account:
The FAKE story continues:
Electrocution is nothing to play around with," said emergency room doctor William Marker. "I've seen at least 49 young people this week with most of them suffering minor brain damage and all of them with permanent nerve damage. This last incident actually took a life...
According to the hoax, Dr. "William Marker" was the emergency room physician who treated "Trayton Smith". After a thorough search on various physician databases, it is clear that "Dr. William Marker" is not a real doctor at all.
Another clear sign that this story is FAKE is the number of people who have allegedly participated in the "taser challenge". There have been no reports on any major news sites of such incidents.
Lastly, the hoax story claims that "Trayton Smith's" grandmother uploaded this video to youtube, although it was clearly uploaded by "Now8News". Once again, this story is completely UNTRUE; no teen was killed by trying the "taser challenge".