There is a trending NOT TRUE story on the internet stating "Man makes fatal 128-story fall seconds after taking a selfie." Though this story could just as well be true knowing the great lengths that people go to get "that shot", this particular story is a HOAX.
A small excerpt from the NOT TRUE story:
23-year old David Fitzgerald and 22-year Jason Campbell, from Newberry in Michigan, decided to climb the second-tallest building in the world, in order to take selfies while walking on top of the building. Unfortunately, their plan went terribly wrong. One of them is now dead and the other one could face serious criminal charges.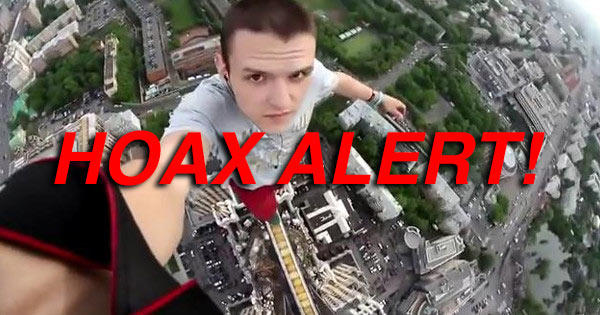 The image of the young gentleman used in the NOT TRUE story is actually of Mustang Wanted, a well known Ukrainian daredevil who is definitely alive and kicking. Check out a recent video he posted that does not contain the image used in the NOT TRUE story.
Follow us on Facebook and Twitter @LeadStoriesCom for your daily news.