There is a NOT TRUE story trending stating "Transgender Woman Shot To Death In Department Store Restroom." This particular topic is a current hot-button issue and has many, many hoax stories being posted about it daily. Lead Stories has debunked several NOT TRUE stories regarding this issue, and will continue to do so if they are as ignorant and baseless as this HOAX story.
An excerpt from the story of lies:
Tragedy struck this morning when a 39-year old transgender woman was shot to death in the women's restroom of Bradford's Department store in Colorado. According to statements issued to authorities by Kathleen Workman, the conflict began when Donna Wright started following Mrs. Workman into the women's restroom. According to Workman, she had politely asked Ms. Wright to use the proper restroom (referring to the men's bathroom) and asked her to please stop following her into the women's restroom.
Bradford's Department store DOES NOT exist, at least not as a major big-box store. If you live in a town named Bradford, there's a good chance you will have local stores using the name in some form.
As for the image used in the NOT TRUE story, it is a free stock image from Pixabay.com. The website that published this ignorant NOT TRUE story is well known for this type of irresponsible journalism. No matter where you stand on the issue of gender identity and the "Bathroom Law", no one should die over it.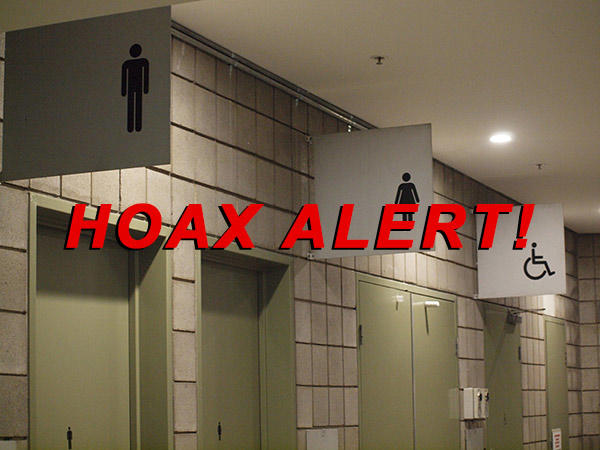 After reading the comments on the NOT TRUE story, it is obvious that people do believe this story is true.
Lead Stories' Trendolizer™ is constantly scouring the web for the hottest news, viral videos and images.
Follow us on Facebook and Twitter @LeadStoriesCom for your daily news.