A racist hoax story purporting that the bodies of 19 white woman were found in a Chicago freezer with "Black Lives Matter" carved into the corpses is again trending on Facebook and other social media. It was intially trending in February 2016, but has now been republished by another hoax website. Lead Stories debunked the earlier versions.
But we are doing it again because It is dangerous as people who don't realize the story is false might be incited to violence as a result of the false report.
The fake story is posted on known hoax websites and uses photos stolen from an actual crime story. The photo of the freezer in which the bodies were found was originally published on London's Daily Mail website in 2012. It is the freezer used by an elderly Japanese man to store the body of his wife, who he allegedly strangled.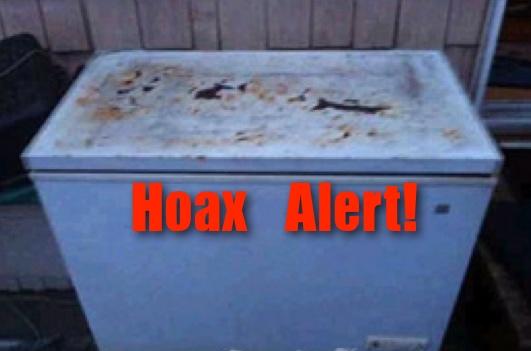 Each version of the story purports that the killer is a Chicago resident named Rasheed Thompson. One version even claims Thompson is the son of President Obama. The president does not have a son.
The story also purports that one of the women survived being stuffed in a freezer and lived to tell how she was kidnapped and put there:
I was kidnapped by this Black guy after I left work earlier today. We talked for while at Starbucks, where I work, before everything happened. At first he seemed pretty nice but he had this weird twitch that happened every couple of minutes. He asked if he could walk me to my car and I said yes, but that is when everything went dark. When I woke up, I was in this basement and I saw that guy I was with earlier taking saws up the stairs. I cried for help and that is when he stuffed me into a freezer where I saw dead bodies. I must have passed out from shock or something but I am happy you guys found me," said to police by the victim.
Please be careful about spreading such trash. In fact, when you see it on your timeline, shared by a lesser intelligence friend, you can post this story in the comment section to make sure others are not fooled.