Fake news website The Resistance: The Last Line of Defense is back with another fake story, this time titled "BREAKING: Hannity Gets In Fist Fight With CNN Anchor And Only One Is Charged With Assault". The story opens:
Shortly after President Trump's speech before congress, Fox News host Sean Hannity was headed to the White House to do an interview and spend a few minutes with his old friend when he ran into jake Tapper from CNN. According to a Fox intern who was at the scene, Tapper got a little bit lippy, telling Hannity that his "boy" really "screwed the pooch" in his speech.

Who knows what speech Tapper was watching since the speech the rest of America heard was absolutely perfect. Nonetheless, Tapper kept taunting Hannity until the exchange got so heated that the two men were nose to nose. Then it happened. Tapper pushed Hannity backward and Hannity responded with a right cross. A few punches later and Tapper was on the ground begging for mercy.
The article also mentions a Fox News intern by the name of "Rory Shottenridder" who supposedly witnessed the whole thing and took cellphone video (which was conveniently confiscated by Capitol Hill police, of course).
First clue that the story is fake: Googling "Rory Shottenridder" returns exactly one result at this time, namely the article itself. A Fox News intern with no social media presence at all? Hard to believe.

Second clue: no other reputable news websites mention the incident and neither did Sean Hannity on his Twitter account. You would think if one of their anchors got assaulted on Capitol Hill by an anchor from a competing network they would be all over the story, no?
Final clue: The Resistance: The Last Line of Defense is a fake news website that carries following disclaimer on its about page:
DISCLAIMER: The Resistance may include information from sources that may or may not be reliable and facts that don't necessarily exist. All articles should be considered satirical and any and all quotes attributed to actual people complete and total baloney. Pictures that represent actual people should be considered altered and not in any way real.
The site also tends to include nonsensical phrases or insults hints in the list of "categories" under the article titles:

Looks like they did the same with this story: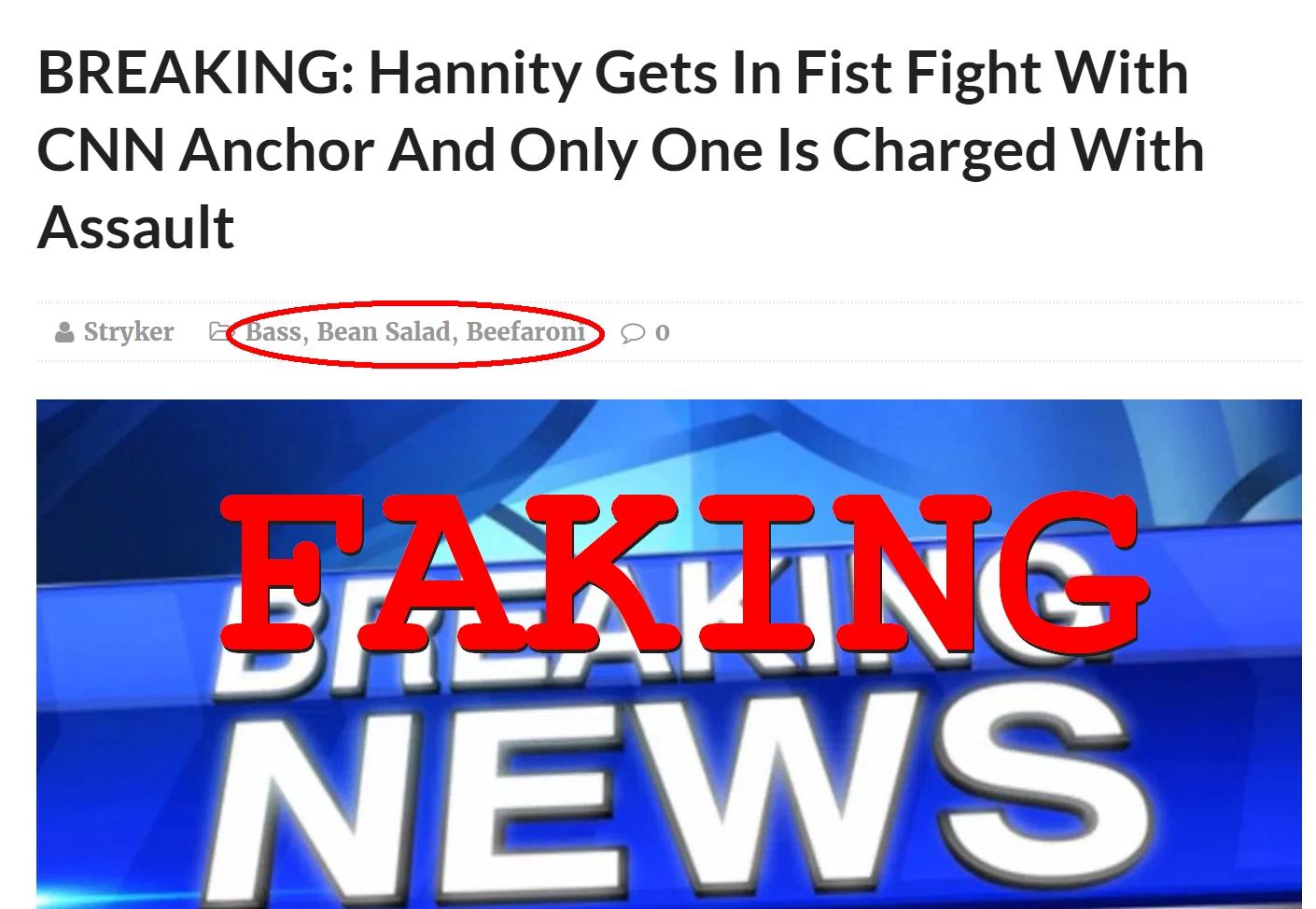 It appears to be part of a larger network of sites that all seem to repost its articles mentioning it as the source but not acknowlediging the satire disclaimer. This causes many people to believe the fake stories especially when they are being shared on social media where even more context is removed and only the title, image and description remain. Sites in the network appear to include:
Meanwhile the story is being shared around widely as you can see in the Trendolizer graph at the end of this article. If you notice anyone spreading the rumor around you can help by pointing them to this article here because nobody likes fake news. Also check the related articles under this story to see other versions of the article popping up within the next few hours.