The eternally amusing satirical hoax website The Resistance: The Last Line of Defense came up with another fake article titled "Clinton Foundation Cargo Ship Raided At Port Of Baltimore Reveals Sick Secret". It begins as follows:
A ship owned and operated by the Clinton Foundation was raided as it arrived from Africa this morning at the Port of Baltimore. The ship, which was supposed to be carrying "emergency supplies," was actually carrying a cargo that had authorities stunned. BPA Harbormaster Jake Cummings explained to CNN:

"We received a tip that the Clinton Foundation flagship, The Chelsea, was carrying illegal contraband into the United States. We honestly didn't know what to expect, but what we found was simply...surreal. In the middle of the ship's large manifest of containers, most of which were empty, we found 14 containing...people. Yes, people.

They were all Refugees from places like Yemen and Syria and not a single one had any kind of documentation. We interviewed those who spoke English and were told that for $40K, anyone can catch a ride to the United States on a ship nobody would ever suspect."
The story is accompanied with a screenshot, seemingly coming from TV channel "News 4 Baltimore".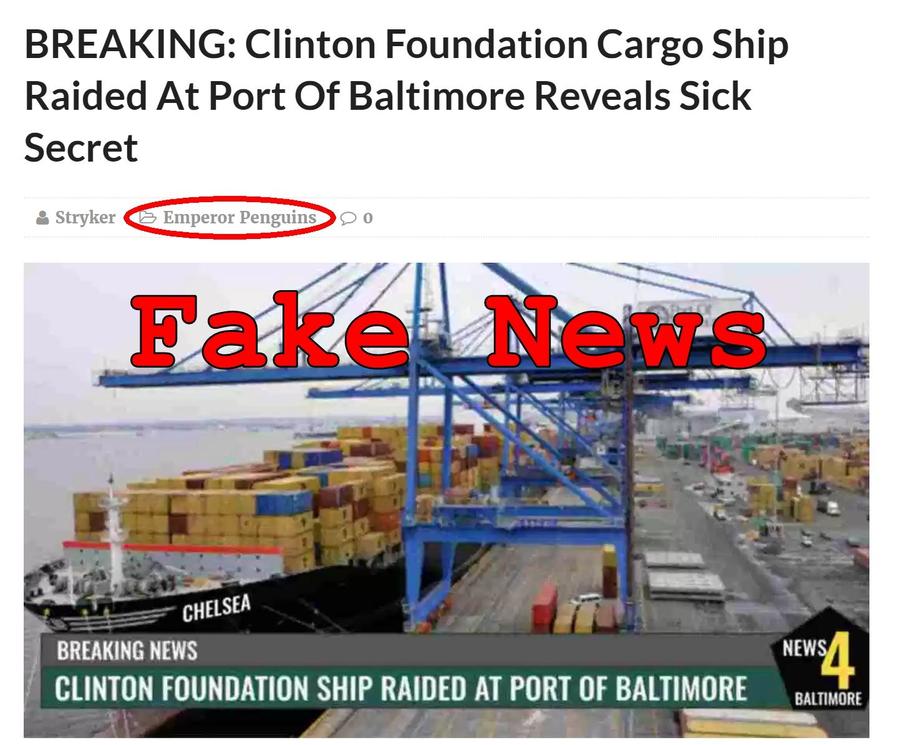 There is no News 4 Baltimore channel according to Google and while MarineTraffic.com lists several ships named 'Chelsea' none of them seem to be container ships and the image appears to actually show the "MSC Rita" with the name 'Chelsea' crudely photoshopped over it.
(Photo: www.mpa.maryland.gov)
So the claims about the ship bringing illegal immigrants, smuggled refugees, terrorists, drugs and various weapons into the United States are definitely not true. And that is not the only reason why. The Resistance: The Last Line of Defense is a fake news website that carries following disclaimer on its about page:
DISCLAIMER: The Resistance may include information from sources that may or may not be reliable and facts that don't necessarily exist. All articles should be considered satirical and any and all quotes attributed to actual people complete and total baloney. Pictures that represent actual people should be considered altered and not in any way real.
The site also tends to include nonsensical phrases or insults hints in the list of "categories" under the article titles:

According to Buzzfeed the site was originally meant to troll conservatives with over the top satirical articles but now appears to be used as a 'source' by a large network of actual fake news sites (not related to the original creator) that all repost the same articles mentioning it as the source but not acknowlediging the satire disclaimer. This causes many people to believe the fake stories especially when they are being shared on social media where all context is removed and only the title, image and description remain. Sites in the network appear to include:
The story is being shared around widely as you can see in the Trendolizer graph at the end of this article. Don't let others be fooled by scammers spreading this story on social media to make money through dodgy advertising. Warn them and send them here instead!