French Actor Samy Naceri, most known from his role in the movie "Taxi", was the victim of a celebrity death hoax earlier today. A site ostensibly named "C. Chivalric" hosted at pro-inside.website/fr/ published an article (archived here) titled "L'acteur français Samy Naceri est mort aujourd'hui à cause d'une maladie cardiaque. Il n'avait que 56 ans et était connu de tous après son rôle dans le film TAXI." (Translation: "French actor Samy Naceri died today due to heart disease. He was only 56 years old and was known to all after his role in the film TAXI."). It opened:
Aujourd'hui, à 12h33, l'acteur français Samy Nancer est mort, il a souffert d'une maladie cardiaque pendant quatre ans et recemment la situation est devenue critique. Il est mort à l'hôpital, les médecins ont tout fait pour le sauver. L'acteur est devenu célèbre après qu-il a joué le role d' un chauffeur de taxi dans le film TAXI.
Or, as Google Translate would say:
Today at 12:33 pm, French actor Samy Nancer died, he suffered from heart disease for four years and recently the situation became critical. He died in the hospital, the doctors did everything to save him. The actor became famous after he played the role of a taxi driver in the movie TAXI.
The hoax spread quickly because the site was using a popup urging visitors to share the hoax on Facebook to be able to see the rest of the page: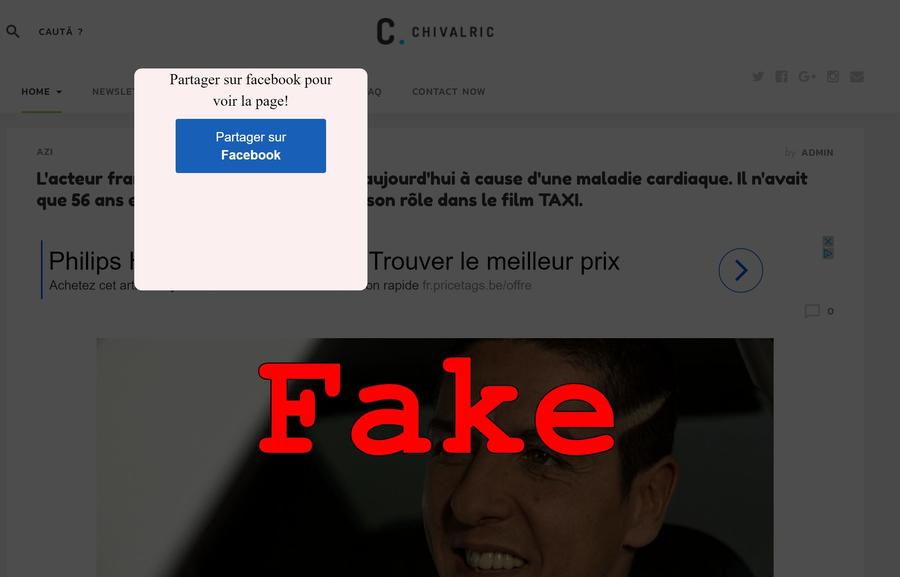 This seems similar to the Mr. Bean death hoax we covered a while ago which used a similar tactic to spread itself. Although this time it seems the site is operated from Romania instead of the Philippines: if you vary the number after 'id=' in the URL of the article you get a surprising number of articles in Romanian. The domain name appears to have been registered anonymouslly via a Russian domain registrar only a week or so ago. The main page of the website currently seems to redirect to Google.
Meanwhile the actor has already told his Twitter followers that the rumor is false:
oui exactement une fausse rumeur de plus je suis en pleine forme en Russie pour la présentation de mon prochain court-métrage !

-- Samy Naceri Officiel (@SamyNaceri) August 25, 2017
Translation: "Yes exactly a false rumour again I'm in great shape in Russia for the presentation of my next short film!"
So if you encounter people on social media spreading this hoax as real, send them over here to learn the truth. Judging by the Trendolizer graph it seems the rumor got quite some traction on Facebook already.