Like clockwork, fake news troll Christopher Blair aka Busta Troll has launched his weekly saturday-Hillary-Clinton-death-hoax. This time she allegedly perished in an accident with a hot air balloon. The first two articles in the saga have already been posted:
UPDATE: As expeced, here is the third story:
It contains this gem of a paragraph:
"There are people out there putting out death stories about Hillary Clinton weekly. It's tough to report the truth with distractions like that."
It is indeed. Those outlets that spread lies should be shut down and their owners prosecuted to the fullest extent of the law.
The first story opened:
Authorities in Southwest Nebraska are searching diligently for a hot air balloon that lost its ability to navigate and floated off course and into an oncoming storm. Nebraska State Police Captain William Milford told Fox News:

"It was a freak thing, really. The balloon went up just fine and then we got a distress call. The Kinutee flaps that allow the pilot to steer had failed and the ozone flange was stuck, so they couldn't simply land. They floated right into the jetstream, basically, and now we have no idea where they are.

Naturally our main concern is for the children."
The children would be Hillary's two grandchildren from her daughter, Chelsea. Robin Marie, 4, and Jared, 18 months, are both considered missing and high priority. No foul play is suspected.
We are expecting a third story to come out shortly that confirms Hillary Clinton's death, and probably a fourth one that "exposes" it was all a set up by someone or other.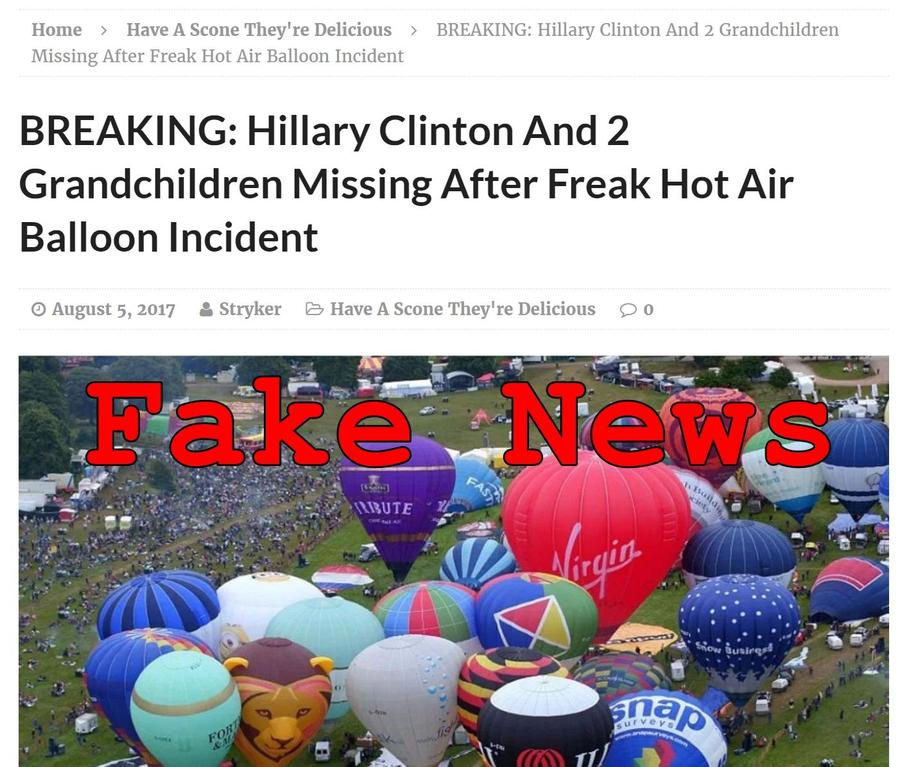 How do we know this? Because Blair and his sites have been launching a similar Hillary Clinton death hoax every saturday the past weeks. Some previous examples we debunked include:
Blair's sites all carry satire disclaimers but you actualy have to click through to the stories and scroll down to the end or click on to read the "About" section, something most people who are sharing his work on social media obviously aren't doing.
This week's death hoax is just beginning to pick up steam as Trendolizer graph at the end of this article shows. It will undoubtedly go viral again as Blair posts it to several pro Trump and anti Hillary Facebook groups and pages in order to toy with gullible conservatives (and make some money off them via the advertising on his sites). If you notice any Hillary supporters concerned by the rumor you can assure them it is fake news.
(The nice thing about these Hillary death hoaxes is that by now we can even debunk them before the publication of the actual article claiming she died. Not even are we faster than Snopes again, we're even faster than the fake news itself. How about that?)