Fake news site The Sunday Inquirer posted an article titled "Lexington Man Arrested After He Was Caught Masturbating $35 Million Stud Horse Trying To Steal Its Semen". It opened:
A Lexington man who was caught masturbating champion stud horses for its semen has been arrested.

Michael Humphrey, 47, admitted to masturbating Tappit, a champion stud horse, and stealing his semen after sneaking into the Gainesway Stud Farm in Lexington Kentucky.

The 47-year-old was caught red handed after ground staff alerted police when security alarms to the stables, which housed their prized stud horses, was triggered in the early hours of Monday morning.

When officers arrived they found Humphreys in the process of milking the prized horse. After searching him officers also discovered 3 separate containers of white liquid which is believed to be the horses semen.
The story is not true, for several reasons.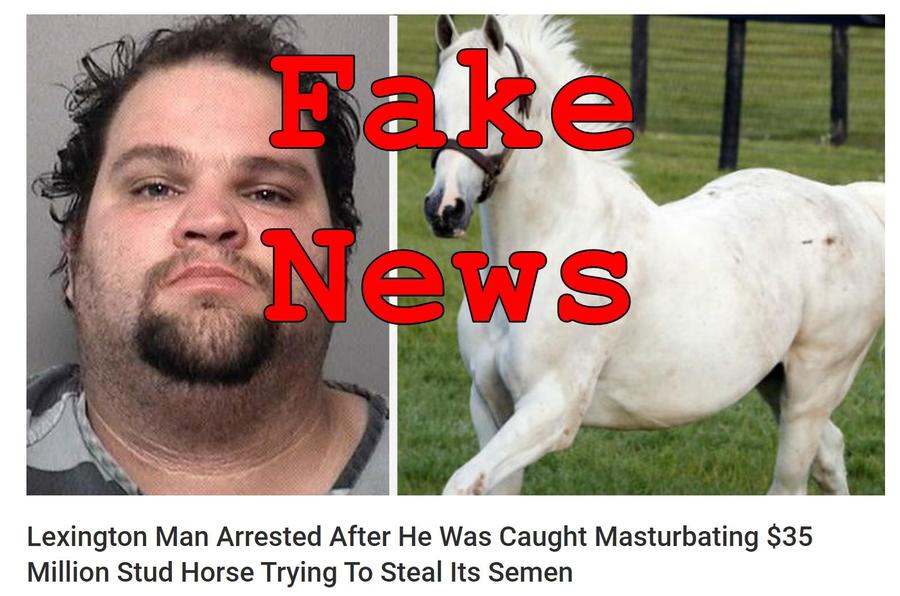 First of all, the mugshot used with the story belongs to Michial Riecks of Decatur, a man accused of sexual assault in 2015. Note: the horse mugshot is real but the name of the horse is Tapit (with one p) and it is indeed a horse with a $300.000 stud fee and it is actually valued at a stunning $140 million, not a measly $35 million.
But more importantly, The Sunday Inquirer is a fake news website operated by the same people as fake news website The Jackson Telegraph and the now defunct CNN-globalnews.com, which only last month ran a Clint Eastwood death hoax. All three sites share the same IP address and Google Analytics code.
As you can see in the Trendolizer graph at the end of this article that didn't stop people from sharing the hoax. If you notice anyone spreading it as true you can help by pointing out the facts in this article to them.