Military satire website Duffelblog posted an article in 2015 titled "West Point Revokes Diplomas Of Confederate Graduates" that opened:
WEST POINT, N.Y. ─ Following the decision of the South Carolina government to remove the Confederate flag from a state memorial, and the subsequent, nation-wide uproar over all things Confederate, West Point has announced that it will posthumously revoke the diplomas of all cadets who graduated from the Academy and fought for the South during the Civil War.

"This sends a clear message to slave-owners and those who would fight for such a horrific cause that 150 years after most of them died we will not tolerate such atrocities on American soil," said Lt. Col. Thomas Jackson, a spokesman for the school.
The article went viral after the recent uproar caused by the decision of several towns and cities to remove monuments dedicated to Confederate persons and institutions and the protests that went along with this. As the recent events in Charlottesville regrettably showed, the debate surrounding this issue has been so heated it already erupted into violence in at least one place.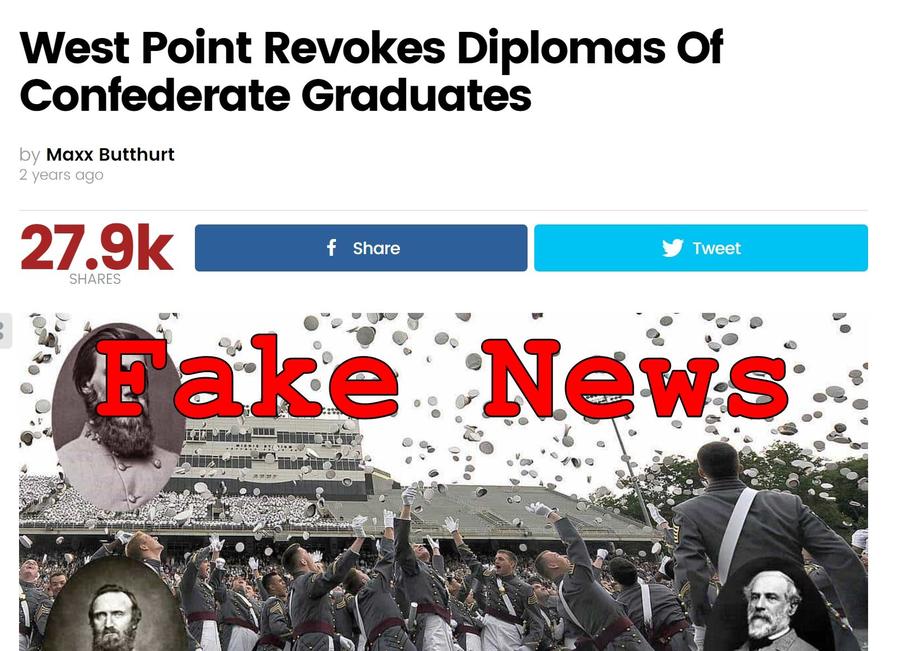 Even though all confederate graduates from West Point have long since died the site lists following consequences for those of them getting their diplomas revoked:
"A revoked graduate status means they will no longer be able to order transcripts, obtain early tickets for West Point football games, or receive their 10 percent discount at the Cadet Bookstore."
None of it is true, of course. Duffelblog lists following disclaimer on its about page:
We are in no way, shape, or form, a real news outlet. Everything on this website is satirical and the content of this site is a parody of a news organization. No composition should be regarded as truthful, and no reference of an individual, company, or military unit seeks to inflict malice or emotional harm.

All characters, groups, and military units appearing in these works are fictitious. Any resemblance to real persons, living or dead, or actual military units and companies is purely coincidental.
But we wouldn't be surprised if some people missed that tidbit in today's heavily charged political climate.