Famous fake/satire website The Resistance: The Last Line of Defense posted an article titled "BREAKING: Country Music Festival Shooter Was Muslim Who Just Came From Iran" which opened:
Once again, our country was attacked by Muslims on Sunday in a horrific shooting in Mesquite, Nevada.

More than 50 people died and 200 were injured when a man began firing at the crowd during country star Jason Aldean's set.

Muhammad al-Jazeera, 35, opened fire from the 45th floor of the Mandalay Bay hotel on the Las Vegas Strip. While liberals spent their time hoping and praying that the shooter was a white Christian, they were terribly, terribly wrong.

Al-Jazeera, who entered the United States under a work visa under Obama, fired a total of 450 rounds at the crowd of the country music festival before he was eventually gunned down by police in his makeshift sniper perch.
The basic facts about the shooting are more or less what the press is reporting right now: there was indeed an attack on a festival on October 2nd 2017 where a shooter opened fire from the 32nd floor of the Mandalay Bay hotel in Las Vegas on the Harvest Music Festival taking place below, killing at least 50 people and wounding 200. But police quickly named a "Stephen Paddock" as the killer:
CORRECTION: Nevada sheriff identifies Stephen Paddock as dead man suspected of opening fire on concert. (Removes incorrect hometown).

-- The Associated Press (@AP) October 2, 2017
Note that the shooting took place in Las Vegas and not in Mesquite, Nevada (which was the originally reported hometown of the killer, a claim now retracted by the Associated Press). Also the floor from which the shooting took place was altered in the fake story.
Most importantly there is no terrorist named Muhammad Al-Jazeera and the picture that was used with the story apparently is an image showing Jasmine Keserovic, a jihadist from Bosnia-Herzegovina.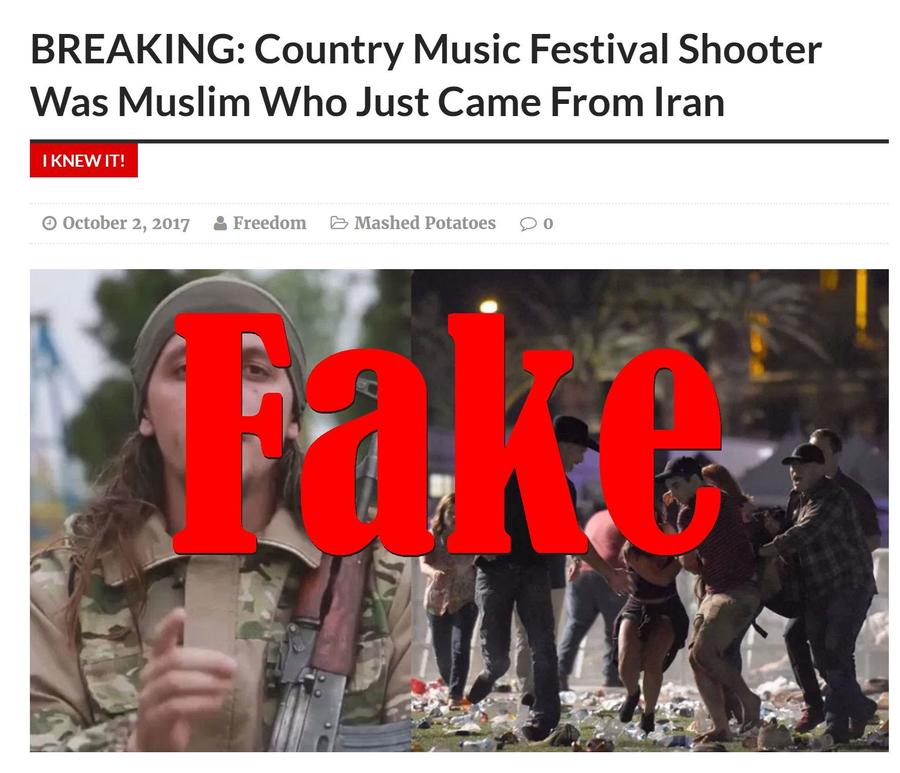 The Resistance: The Last Line of Defense also carries a satire disclaimer at the bottom of the page which reads:
In a cynical world where the news of the day often seems fake, The Last Line of Defense offers today's busy conservative a place to go to read things they'll enjoy and congregate with a bunch of people they agree with. So while everything on this site is a satirical work of fiction, we are proud to present it to those who will have called it real anyway.
The owner/writer of the site is self-professed liberal troll Christopher Blair, a man from Maine who has made it his full time job to troll gullible conservatives and Trump supporters into liking and sharing his articles. He runs several other websites such as asamericanasapplepie.org, ourlandofthefree.com and freedumjunkshun.com. Sometimes he is also known under his nickname "Busta Troll".
Blair's articles frequently get copied by "real" fake news sites who often omit the satire disclaimer and any other hints the stories are fake. Blair has tried to get these sites shut down in the past but new ones keep cropping up.
If you see one of his stories on a site that does not contain a satire disclaimer, assume it is fake news. If you do see the satire disclaimer it is of course also fake news.
We can only guess at the motives that made Blair write this article. Feel free to speculate in the comments.