A fake news website by the name of states-news.com published a hoax article titled "George Brooks Veikoso Dies from Injuries Sustained during Show |BREAKING NEWS" which opened like this:
SUVA -- It has been confirmed Fiji singer, songwriter, musician, composer, actor, author and former music journalist George Brooks Veikoso has died at age 47.

George Brooks Veikoso was rushed to the hospital Friday night after a large stage prop fell on top of him during his show at the Manhattan Center Hammerstein Ballroom. He was in the middle of a performance of his Eurythmics cover "Let Me Be the One" (Island Warriors)" when it appears he touched the struts of a scaffolding setup attached to two large guns, causing it to tip over onto him.
The entire article is made up. Large parts of it seem to be copied from an earlier hoax that claimed singer Marilyn Manson had died when a stage prop fell on top of him. The story kept the location and even the witness name ("Yousif Al Zaid") but simply changed the name of the victim and the title of the song he was supposedly singing.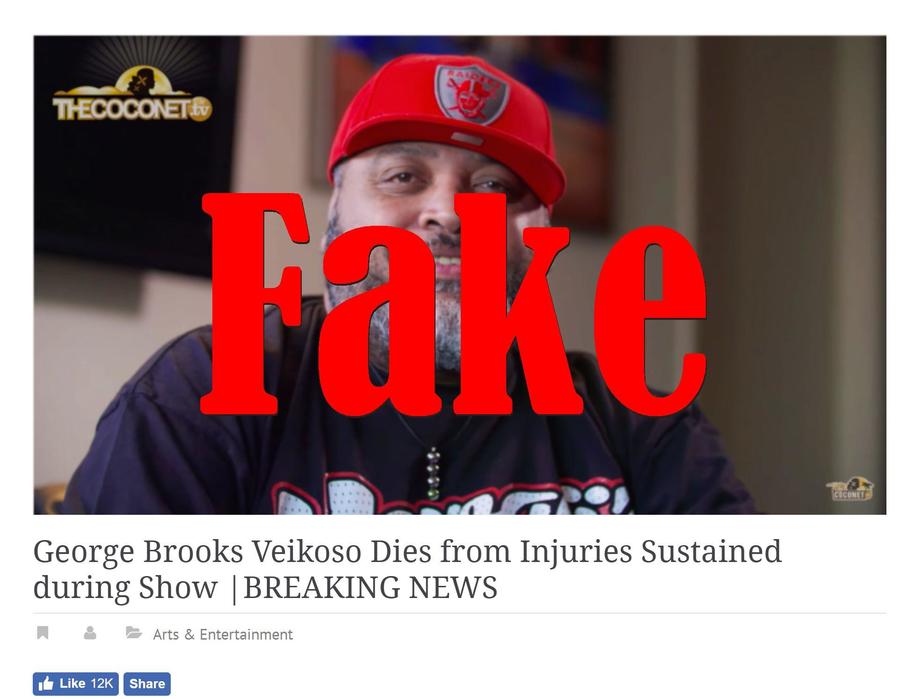 The site pushing the hoax is part of a network of fake news websites that all have normal looking front pages with some generic news stories taken from other websites but which frequently publish hoax articles on other parts of the site that aren't immediately obvious to visitors. Some sites we've identified as part of the network by linking together shared advertising/statistics accounts and social media pages include:
breaking-cnn.com
cbn-tv.com
cnn-channel.com
city-herald.com
fox-news24.com
metro-uk.com
news.cbn-tv.com
online.read-news.com
states-tv.com
meganews360.com
parliaments.eu
Earlier this week another site in the network claimed former England Football Player Gordon Banks had died, something that was also not true.