Meet the website "American President Donald J. Trump" which is published by "A Tested and Trustworthy Team" according to its own subheader. But is it really?
First of all a warning: most of the links in this article will lead to sites that heavily feature pop-up ads and other sneaky advertising tricks. Clicking anywhere on these websites will usually open up more advertising, and that includes clicking on whitespace or in the search form. Some of these ads might even be malicious and prompt you to install all kinds of software. Don't fall for it.
The site publishes mostly made up celebrity quotes about President Trump, fake polls that don't work (but which open up lots of ads) and news stories with a conservative slant copied from other websites. It lists no publishers and the author biographies are all empty.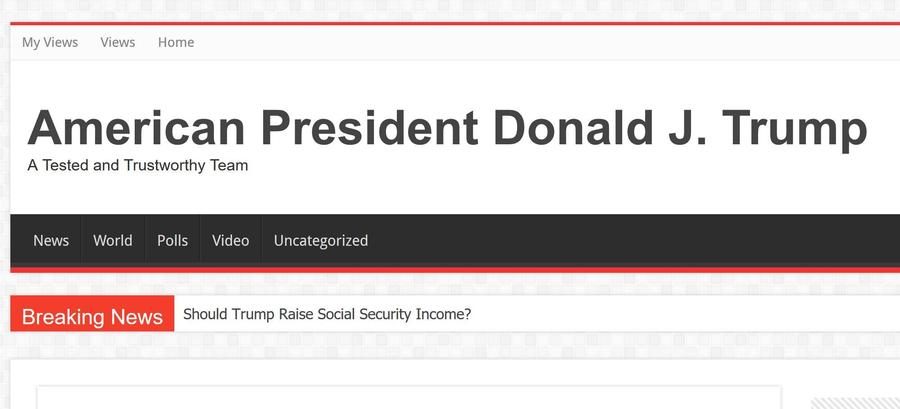 First of all, where can you find this website? If you guessed americanpresidentdonaldjtrump.com you would be wrong because that domain name is still available at the time of writing. Maybe at dailynewsforamericans.com? That did work when we tried it, but you'll notice the links on the page all point to articles on usdeplorablesnews.com (archive) which is the current URL of the website. That domain name was registered on January 10th 2018.
But you can also find the site via any of these names which were registerd at various times during the past year or so:
americanpresidentdonaldj-trump.com
dailynewspostss.com
freedomwriters.pro
trumpence2024.com
usadailynewsposts.com
usdailynewss.com
usdeplorablesfortrump.com
usdeplorableslovestrump.com
usdeplorablesnews.com
usfoxnews.com
usofficialnews.com
us-presidenttrump.com
A possible reason for these frequent name changes is to get around various blocklists and filters instituted by social media neworks and search engines to combat the spread of fake news.
All these sites are either hosted at the same IP address or contain the same identifier for advertising network MGID: "departed.co". This identifier has also been found on several other sites that are probably from the same creator(s):
unitedstatesforpresidentrump.com (seems to be a copy of the above site from with a new name "US4Trump")
departedme.com (now redirects to statewatcher.com)
statewatcher.com (a site with the name "Gagster" in the header)
Visitors to departed.co are also redirected to the statewatcher.com site. According to the Fake News Codex the website departed.co has been known to be spreading hoaxes:
Site that published fake and extremely misleading articles intended to appeal to uncritical right-wing readers.

For example, in March of 2016 they published an article with the headline "Obama says 'Statue of Liberty is offensive to Muslims' and wants to remove it" The article's text and supporting video say absolutely nothing of the sort.
The linked article no longer exists but the Snopes takedown for it is still up and that dates from July 2016 which means the site has been in operation since at least that time. That seems to match up with the WHOIS record for the site which dates registration to February 2016.
All domain names mentioned so far were registered anonymously with one exception: the listing for departed.co shows a "Bernanrd Smith" or "Bernard Smith" who lives at "Address, City" with postal code "0119" in Georgia. There even is a phone number with the correct country code (+995) but we suspect the rest is made up too: 1231234.
So who is behind all these sites? We don't know, any tips are welcome. But know that nothing they post should be taken at face value, always check the information first.