STORY UPDATED: check for updates below.
Rumors that Zimbabwean opposition leader Morgan Tsvangirai is dead are not true. (UPDATE: They are now true, Tsvangirai passed away on February 14th 2018)
The origin of the rumor is the website "All Africa" or allafricanews.co.za which posted an article (archived here) titled "BREAKING: Zim's opposition leader Morgan Tsvangirai dies" somewhere in January 2018 that opened:
JOHANNESBURG - Zimbabwe's main opposition leader Morgan Tsvangirai died today following his critical condition in the South African hospital, a senior party official told local media Thursday afternoon.

According to the local media, Tsvangirai had gone to South Africa for a routine medical check-ups, but he developed low blood pressure during the medication and subsequently passed away around 12:15pm local time Thursday.

"Sadly I can confirm our leader is gone, his legacy still lives with us" a senior official from Tsvangirai's Movement for Democratic Change (MDC) told the local media, speaking on condition of anonymity.
The story is not true. Although Tsvangirai is know to have cancer and has spent time in hospital for it, he is not dead.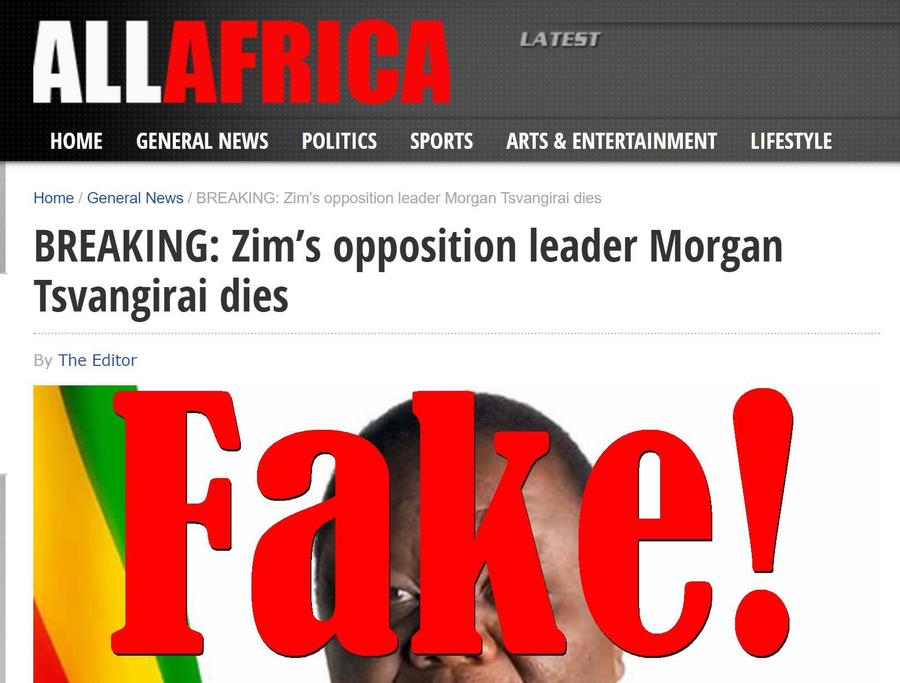 The website that started the rumor is part of a network of fake news websites that are designed to resemble legitimate news sites and contain mostly 'normal' news copied from other websites mixed in with the occasional fake story. Some of sites in the network include florida-times.com, houstonchronicle-tv.com and nydailynews-tv.com. The florida-times.com site is connected to city-herald.com and texas-express.com via a common Facebook app id so it is likely they are also part of the same network.
In fact a few weeks ago a similar fake news story emerged via city-herald.com prematurely announcing the death of singer David Cassidy (several days before he actually died). The florida-times.com and texas-express.com sites were also used in the past to prematurely announce that serial killer Charles Manson died (right after he was taken to hospital). The same Charles Manson article was published in a near-identical layout on the website Newsphd.com, which shares an advertising network ID from ContentAd with allafricanews.co.za so it is very likely the site is part of the same network.
This continues a trend for this network where news about famous people being in ill health or getting hospitalized leads to one of the sites in the network publishing a death hoax about that person. In this particular case it probably helped that Roy Bennett, a real Zimbabwean opposition leader, recently died in a helicopter crash in the United States on January 19th 2018 so people Googling for confirmation would see headlines from real news sources about a Zimbabwean opposition leader passing away. However these stories were not about Morgan Tsvangirai.
Bulawayo 24 News has reported that Tsvangirai expressed shock at Bennet's death:
"It was with shock that I learnt of the death of the heroes of our democratic struggle, Roy and Heather Bennett, in a helicopter crash yesterday. I have known the two since we formed the MDC in 1999 and they were resolute and steadfast in the struggle for democracy. "Pachedu", as we knew Roy, was a committed cadre, farmer and patriot who loved this country," he said.
Tsvangirai's own party has made no mention of his death on their website. But there is a full statement about the death of Roy and Heather Bennet there.
So don't be confused: Tsvangirai is alive and well.
2018-02-15T13:17:39Z

2018-02-15T13:17:39Z

Morgan Tsvangirai eventually did pass away on February 14th 2018

as CNN reported

.

2018-01-25T15:33:08Z

2018-01-25T15:33:08Z

2018-01-25T15:27:49Z

2018-01-25T15:27:49Z