Rumors that the BBC has added permanent Arabic subtitles that can't be turned off to popular soap series Eastenders are not true.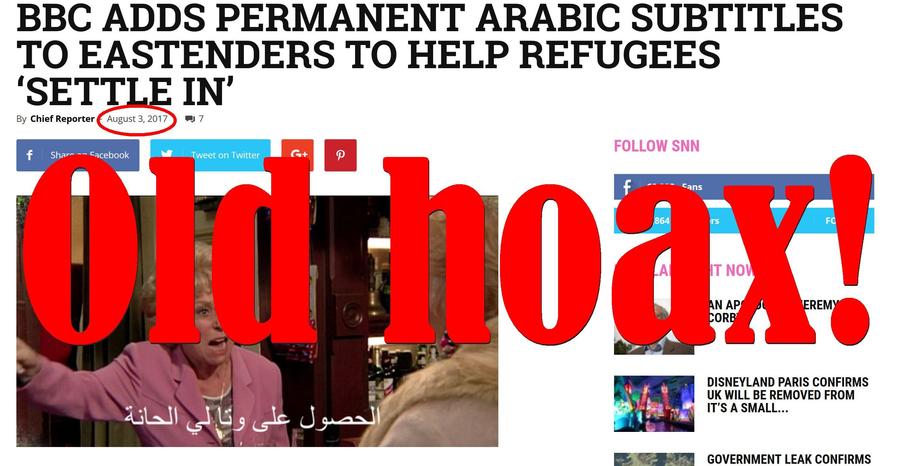 The origin of the story was an article posted to satirical website Southend News Network on August 3rd 2017 titled "BBC adds permanent ARABIC SUBTITLES to Eastenders to help refugees 'settle in'" (archived here) that opened:
A spokesperson for the BBC has confirmed that all episodes of Eastenders will be transmitted with Arabic subtitles from October 2017.

The corporation hopes that this will allow Syrian refugees and other Arabic-speaking migrants to settle in and get used to the British way of life.

According to a press release, the subtitles will be included in all BBC One transmissions 'on screen' so that they cannot be switched off.
The story suddenly went viral again on February 25th 2018 after the Southend News Network reposted the story on their Facebook page in following post:
The Southend News Network is a satirical website that carries following disclaimer on its about page:
Southend News Network was originally started in October 2015 with no real aims or objectives in mind other than to add a satirical/spoof-like touch to issues that people are passionate about in Southend On Sea. Above all else, SNN is all about having the occasional 'dig' at the powers that be, as well a slightly bigger and more frequent 'dig' at certain elements of local media!
The site used to have a company registration number on it that linked it to a company named "Southend News Network LTD" but that company has apparently been dissolved on January 18th 2018. It used to be run by a man named Simon Harris, an Essex teacher according to The Guardian.