STORY UPDATED: check for updates below.
A Facebook post on February 13th 2018 by a man named Alexander Petersen went widely viral, being shared over 340,000 times on Facebook. It contained two videos that show people setting fire to some Lay's potato chips. The audio commentary claims these are not made from 100% potatoes and that burning them shows they "don't turn to ash" and "don't lose their shape" because they contain "tons of plastic", "poison", "hell" and "will make you die faster".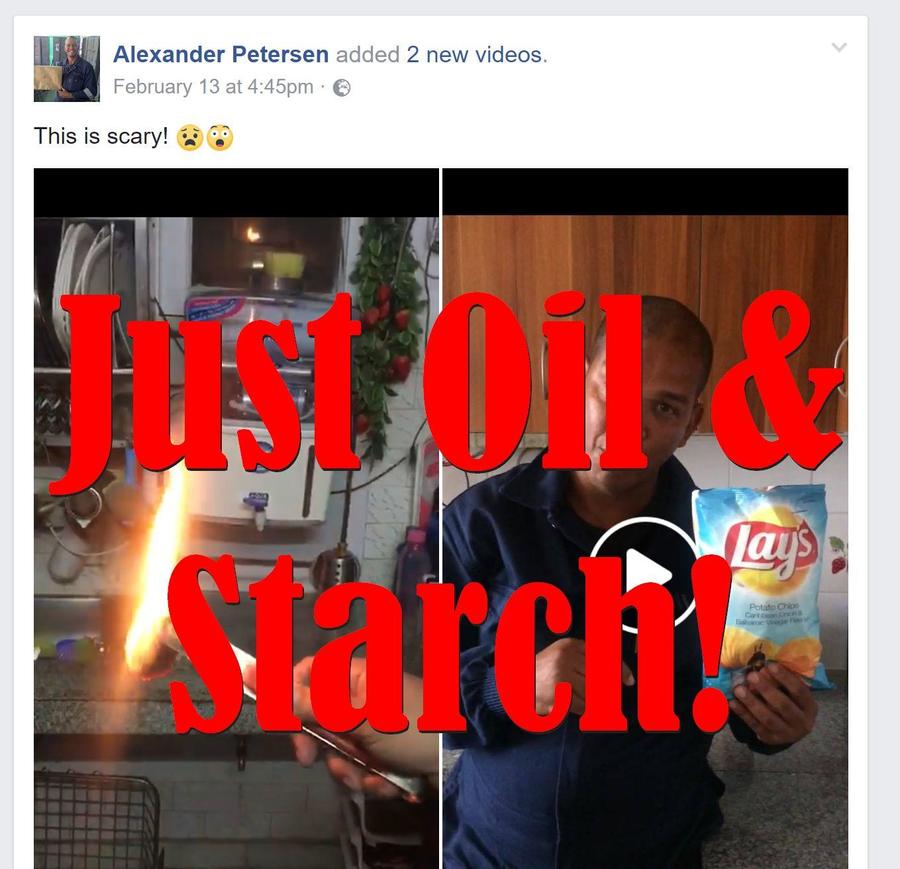 The chips in the first video appear to be Lay's India Magic Masala, which contains following ingredients according to Open Food Facts:
Potato, Edible Vegetable Oil (Sunflower Oil, Corn oil, and/or Canola Oil), Spices and Condiments (Onion Powder, Chilli Powder, Dry Mango Powder, Coriander Powder, Ginger Powder, Garlic Powder, Black Pepper Powder, Turmeric Powder, Cumin Powder, Salt, Black Salt, Sugar, Tomato Powder, Citric Acid, Tartaric Acid, Natural Flavors (E160b)
The second one appears to show Lay's Caribbean Onion & Balsamic Vinegar Chips, which is on sale in South Africa via Woolworths which lists following ingredients:
Fresh potatoes, refined vegetable oil with antioxidant (TBHQ), salt, maltodextrin, acidifying agents (E330; E262), sugar, vegetable powders (onion and garlic), flavour enhancer (E335), free flow agent (E551), fractioned coconut oil, permitted flavourants, non-nutrative sweetner [E961 (aspartame)] and emulsifier (E414), contains phenylalanine. no added MSG, No tartrazine
No trace of poison or plastic there. But the most interesting parts are the "Edible Vegetable Oil (Sunflower Oil, Corn oil, and/or Canola Oil)", "refined vegetable oil" and "fractioned coconut oil" in there. Potato chips are made by boiling potato slices in these oils and once they are taken out a good deal of it sticks to them. At room temperature these oils are just sticky but heat them up and they become runny or fully liquid or they may even start boiling.
Potatoes are mostly made of water and starch and the boiling of the chips removes most of the water so potato chips are essentially made of starch covered in oil and seasonings. Starch by itself is also flammable and doesn't melt but decomposes into a black, carbon-like substance when heated too much.
That is what these videos show, no more, no less. As the ingredient lists show the manufacturer doesn't claim potato chips contain 100% potatoes, the are required by law to list everything that goes in them on the packaging. Something the makers of the videos clearly didn't even bother to check.
The speakers in the videos seem to be talking about children putting chips in their tummies etc. so they may just be misguided attempts at making kids scared of eating them. In the end potato chips are indeed delicious and they contain relatively high amounts of fats and salts so just like with anything else eating too much isn't good for you. Kitchen salt and water can kill you too if you just ingest enough. Small amounts are perfectly fine though.
Should the post or the videos go down, here are copies we found elsewhere:
2018-02-16T10:40:59Z

2018-02-16T10:40:59Z

The original Facebook post appears to have been taken down, we've removed the embedded version from this article.