STORY UPDATED: check for updates below.
Fake news website YourNewsWire is at it again, blending reality and fiction into a cocktail of scaremongering to attract visitors and clicks. Hot on the heels of their previous runaway viral hit article titled "CDC Doctor: 'Disastrous' Flu Shot Is Causing Deadly Flu Outbreak" (already debunked by Snopes) they published a followup story on February 22nd 2018 titled "CDC Doctor, Who Claimed Flu Shot Caused Outbreak, Missing Feared Dead" (archived here) which falsely claims Dr. Timothy J. Cunningham was the source in the first story and exploits the fact that the real Dr. Cunningham is missing right now.
Cunningham has actually been missing for 10 days now, as has been widely reported:
Police are asking the public for help finding a missing Centers for Disease Control and Prevention employee who went home sick 10 days ago and hasn't been seen or heard from since. Timothy Cunningham, 35, went to work on Feb. 12 and left sick, the Atlanta Police Department said.
If you happen to have seen him, do call the Atlanta Police Homicide/Adult Missing Persons Unit at 404-546-4235.
In the first debunked article YourNewsWire claimed an anonymous doctor warned against this year's flu shot:
A CDC doctor has warned this year's "disastrous" flu shot may be responsible for the deadly flu epidemic sweeping the country.

"Some of the patients I've administered the flu shot to this year have died," the doctor said, adding "I don't care who you are, this scares the crap out of me."

"We have seen people dying across the country of the flu, and one thing nearly all of them have in common is they got the flu shot."
Now in the new article they "reveal" the name of the anonymous doctor:
Dr. Timothy J. Cunningham, a team lead with CDC's Division of Population Health, has been missing for over a week, according to Atlanta police, with family and police desperate for answers regarding his sudden disappearance.
There is just one problem with that theory. Here is Cunningham's bio on the website of the CDC:
Timothy J. Cunningham, ScD
Team Lead, Division of Population Health National Center for Chronic Disease Prevention and Health Promotion

Timothy J. Cunningham, ScD, is a team lead with CDC's Division of Population Health. Dr. Cunningham trained with CDC as an Epidemic Intelligence Service officer. His research has been oriented towards understanding health differences related to race/ethnicity, socioeconomic status, gender, and geography. Dr. Cunningham has also deployed for numerous public health emergencies, including Superstorm Sandy, Ebola, and Zika. He is an active member of the American Public Health Association and the American College of Epidemiology. Dr. Cunningham received his S.M. and Sc.D. from the Harvard T.H. Chan School of Public Health.
Notice that "ScD"? That stands for Doctor of Science, which is an academic degree different from a Doctor of Medicine (MD). It is the second type of doctor that people go to for flu shots or prescriptions. The first type doesn't see patients and typically doesn't administer shots so it is higly unlikely he is the source of the first story (which was already suspect to begin with).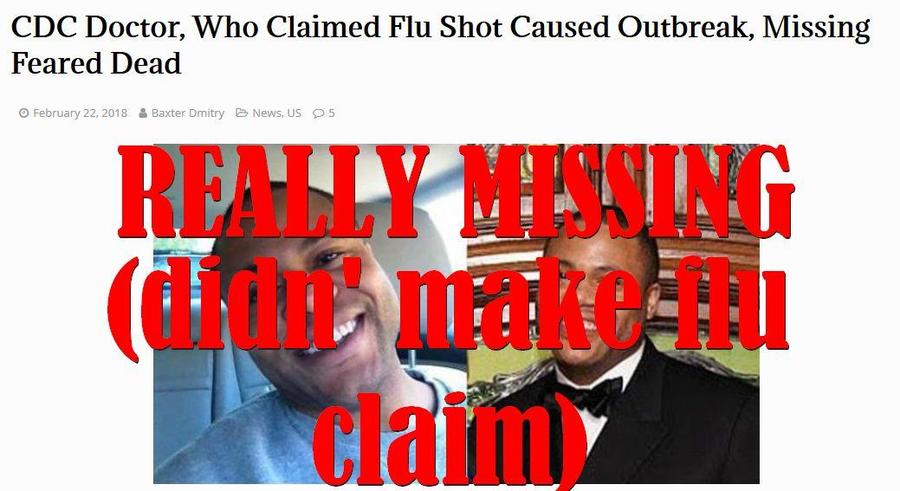 Other than the claim Cunningham was the source of the previous story the article is just a rehash of the original reporting about the disappearance from 11alive.
YourNewsWire has published several hoaxes and fake news articles in the past so anything they write or publish should be taken with a large grain of salt. Their Facebook page "The People's Voice" recently lost its verification checkmark according to a report from MMFA.
The Terms of Use of the site also make it clear they don't really stand behind the accuracy of any of their reporting:
THE PEOPLE'S VOICE, INC. AND/OR ITS SUPPLIERS MAKE NO REPRESENTATIONS ABOUT THE SUITABILITY, RELIABILITY, AVAILABILITY, TIMELINESS, AND ACCURACY OF THE INFORMATION, SOFTWARE, PRODUCTS, SERVICES AND RELATED GRAPHICS CONTAINED ON THE SITE FOR ANY PURPOSE.
The site was profiled in the Hollywood reporter where it was described as:
Your News Wire, a 3-year-old website of murky facts and slippery spin, is published by Sean Adl-Tabatabai and Sinclair Treadway -- a Bernie Sanders supporter in 2016 -- out of an apartment in L.A.'s historic El Royale.
RationalWiki described it as:
YourNewsWire (styled as YourNewsWire.com[1]) is an Los Angeles-based clickbait fake news website known for disseminating conspiracy theories and misleading information, contrary to its claimed motto ("News. Truth. Unfiltered").[1]
A while ago we also reported that YourNewsWire had rebranded itself as NewsPunch by changing its domain name in an apparent effort to evade filtering/blocking. It appears the site has changed back to it's old name in the mean time but you can still see the NewsPunch name in the contact email address in the footer.
2018-04-05T22:23:14Z

2018-04-05T22:23:14Z

Unfortunately Dr. Cunningham was found dead today:

UPDATE: The Fulton County Medical Examiner's Office has identified the body recovered in the Chattahoochee River in NW Atlanta late Tuesday to be missing CDC employee Timothy Cunningham. A press conference will be held at 2 p.m. ET at APD Headquarters on the investigation. pic.twitter.com/PlAGiqHO5P

— Atlanta Police Dept (@Atlanta_Police) April 5, 2018

According to

news reports

there were no signs of foul play.