Were you a UK parent worried about having to pay a £30 fine per child that misses school, despite the BBC weather service predicting heavy snowfall and possible school closures being announced? Worry no more: news that an official by the name of Eduard Fin De Cloche from the Department of Education made an announcement about that are completely fake, including the part that said the money raised would go to "The Campaign For Equal Equality and Cultural Culture in Schools".
The story originated on satirical website Southend News Network where it was published on February 28th 2018 under the title "Official confirms parents will be FINED for every child missing school because of the snow" (archived here). It opened:
An official from the Department of Education has confirmed that parents across the United Kingdom will be fined for every child who is missing school today because of the snow.

Eduard Fin De Cloche added that £30 fixed penalties will be payable per child, per day, even if the school has closed due to safety concerns or a lack of staff.

All funds that are generated from the fines are used to find diversity and cultural awareness programmes, including The Campaign For Equal Equality and Cultural Culture in Schools.'
First of all, the name "Fin De Cloche" is a literal French translation of "bell-end", a slang term used in Britain to denote a stupid person or the tip of the male anatomy. Secondly there is no "Campaign For Equal Equality and Cultural Culture in Schools" (we checked).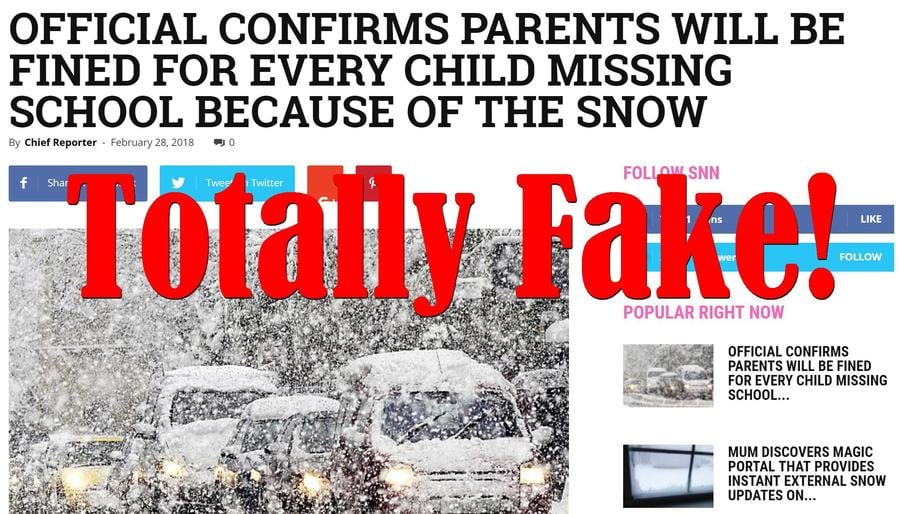 But most importantly The Southend News Network is a satirical website that carries following disclaimer on its about page:
Southend News Network was originally started in October 2015 with no real aims or objectives in mind other than to add a satirical/spoof-like touch to issues that people are passionate about in Southend On Sea. Above all else, SNN is all about having the occasional 'dig' at the powers that be, as well a slightly bigger and more frequent 'dig' at certain elements of local media!
The site used to have a company registration number on it that linked it to a company named "Southend News Network LTD" but that company has apparently been dissolved on January 18th 2018. It used to be run by a man named Simon Harris, an Essex teacher according to The Guardian.