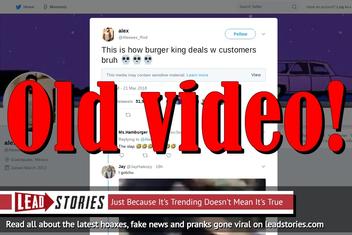 Does a recent tweet show how Burger King deals with customers? With video of a man being punched, stood upon and being tased by employees in front of other customers?
A recent tweet published on March 21, 2018 by @Aleeex_Rod appears to show just that (we archived it here in case it gets taken down).
This is how burger king deals w customers bruh 💀💀💀 pic.twitter.com/0BCedrsYYl

-- alex (@Aleeeex_Rod) March 21, 2018
However the tweet shows video from a June 2017 Montrose, Texas incident in which a man first attacked the employees in question:
Today's Top Stories WATCH NOW LIVE VIDEO Houston murder-for-hire trial TOP VIDEOS LIVE VIDEO Houston murder-for-hire trial A bizarre incident inside a Montrose Burger King between customers and an employee was caught on video. According to an eyewitness, a man was yelling and using vulgar language towards employees inside the restaurant.
Later reporting indicated that the man was likely homeless and had caused trouble at the restaurant before.
A fight involving employees at a Montrose-area Burger King and an apparent homeless man is bringing to light a larger issue with the city's new homeless ordinance, according to a security expert. The confrontation involves the man who appears to be homeless and using a wheelchair.
However the reaction of the employees can certainly be called excessive and the police seemed to agree as the news coverage noted:
Officers also seized the pepper-spray and stun gun from the restaurant staff