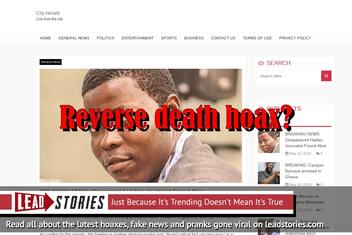 Was missing Haitian photojournalist Vladjimir Legagneur found alive? No, there have been no reliable media reports claiming this is the case. In fact several news outlets are reporting about human remains being found in the area where he was last seen, making it more likely he is actually dead (although this is still not confirmed).
This may be the first case of a reverse death hoax by a fake news site. The story about Legangneur being found originated from an article published on March 30, 2018 by the website City Herald which was titled titled "BREAKING NEWS: Disappeared Haitian Journalist Found Alive" (archived here) which opened:
Farmers of Jacmel in Haiti have found missing photojournalist, Vladjimir Legagneur, who got missing two weeks ago, local radio reports.

According to the reports, the freelance Haitian photojournalist was "found unhurt but unconscious" in a farm. He has since being hospitalized in a Jacmel Hospital receiving medical attention.
In reality it is still unclear where Legagneur is but this news report is not very encouraging:
Haiti police are investigating the mangled remains of a corpse to see if they belong to a missing freelance photojournalist, Vladjimir Legagneur, who went missing March 14. He was last seen near a gang-controlled area of Port-au-Prince called Grand Ravine.
The City Herald website has a reputation for publishing fake news and has been involved in several other hoaxes in the past.
We wrote about city-herald.com and the network of sites it is related to before, here are our most recent articles that mention the site:
The site appears to be part of a network of fake news websites that all have normal looking front pages with some generic news stories taken from other websites but which frequently publish hoax articles on other parts of the site that aren't immediately obvious to visitors. These stories frequently are death hoaxes about celebrities or other well known people that have been reported as being in the hospital by mainstream news sources.
But this seems to be a first for the network: reporting that somebody who is probably dead has been found alive.
Here is a diagram of some of the sites we've identified as part of the network along with the clues linking them together: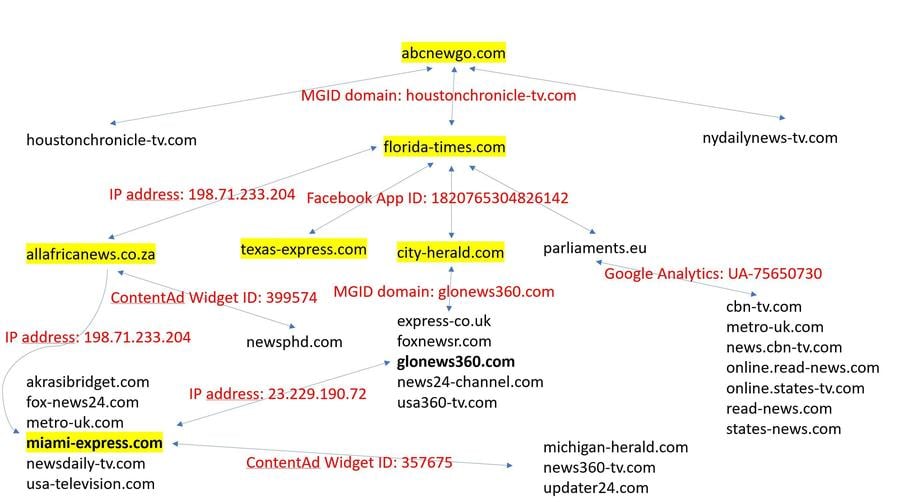 We wrote a longer exposé about that network here if you are interested in reading more about the kinds of tricks and tactics it uses.