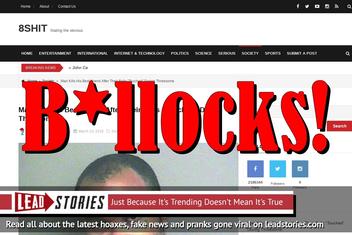 Did 39-year old Curtis Mayfield kill his best friend after their balls accidentally touched during a threesome? Nope, that story originated from a fauxtire site several years ago and was not true back then either.
The story went viral again via an article published on March 23, 2018 on 8shit.net titled "Man Kills His Best Friend After Their Balls "Touched" During Threesome" (archived here) which opened:
A 39 year-old man, Curtis Mayfield was arrested this week after a threesome with his best friend took a tragi twist. Mayfield shot his friend dead after, in his own words, their balls "touched" during the sex act with a stripper. Mayfield was pissed off by this and reached for his gun.

Mayfield said to the press:

"There's only so much a man can take, and dick or balls ain't one of them. Halfway through I yelled 'switch!' You know from mouth to butt, he went left when he should've went right and next thing you know... We ball to ball."
But pretty much the same story with different names appeared three years ago on fake news website Celebtricity (archived here):
"I mean there's only so much a n***a can take and balls nor d**k will never be one of them" Said convicted murderer Jay Coolidge about murdering his friend. Jay stabbed his best friend Roger Scarsborough 14 times killing him after things got hot and heavy during a 'train' which he says is slang term [...]
In that story the killer and the victim were named "Jay Coolidge" and "Roger Scarsborough"
Furthermore, 8shit.net carries a disclaimer on its about page that reads:
8Shit is a satire and humor website.

It contains cutting edge satire on a diverse range of topics.

The website publishes fake news, shocking rumors and reports with incisive sarcasm, and humor.

We also post crazy real news which often sounds too good to be true.
And an additional disclaimer in the footer of every page:
8Shit is a satire news and humor website. All its content is fiction (except those posts under the "serious" category) and shouldn't be taken as real. All references, names and marks or institutions in this website are used as contextual elements, like in any novel or science-fiction story.