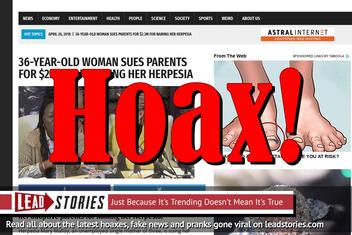 Did 36-year-old Herpesia Mary Malloy sue her adoptive parents for giving her the name Herpesia? And is she asking for $2.3 million in damages? No, that's not true, that story originated on a website that habitually posts fake stories for entertainment purposes. It did not happen.
The original article ws published on April 26, 2018 by World News Daily Report under the title "36-year-old woman sues parents for $2.3M for naming her Herpesia" (archived here). It opened:
Los Angeles, CA | A 36-year-old California woman is suing her adoptive parents for naming her Herpesia.
Herpesia Mary Malloy, an unemployed single mother of three, is suing her adoptive parents, Jason Malloy, 72, and Heather Malloy, 66, claiming that her name has made her life extremely difficult.

Malloy claims her name, which resembles that of the sexually transmitted disease herpes, has cost her many job opportunities and also blames her name for her three divorces.

Herpesia Mary Malloy, who was born in 1982, was adopted by the Malloy family and given the name Herpesia after the name of her own biological mother who is of Angolan origin.
The woman in the picture that illustrated the story is actually involved in an lawsuit, but her name is Essie Grundy and she is suing Walmart, not her parents:
Essie Grundy has hit Walmart with a discrimination lawsuit for products being locked up that weren't expensive.
It seems like the writers at WNDR are getting a bit lazy because they ran a similar story somewhere in September 2017:
A 17-year old boy from Missouri has launched a civil lawsuit against his parents for naming him Gaylord as a child, a name which allegedly caused him to suffer from a lot of mockeries and even serious bullying.
We debunked that story back then as well:
STORY UPDATED: check for updates below. Somebody used the website Pagez.com where anybody can post an article to copy a story ( archived here) that appeared originally on fake/satire website World News Daily Report and which was titled "Teenager sues his parents for $250,000 for naming him Gaylord".
The website World News Daily Report is a well known satire website specialized in posting hoaxes and made up stories. The disclaimer on their website is pretty clear about that even though you have to scroll all the way down the page to find it:
World News Daily Report assumes all responsibility for the satirical nature of its articles and for the fictional nature of their content. All characters appearing in the articles in this website - even those based on real people - are entirely fictional and any resemblance between them and any person, living, dead or undead, is purely a miracle.
It is run by Janick Murray-Hall and Olivier Legault, who also run the satirical Journal de Mourréal, a satirical site spoofing the (real) Journal de Montéal. Very often their stories feature an image showing a random crazy mugshot found in a mugshot gallery on the internet or on a stock photo website superimposed over a background of flashing police lights or crime scene tape.
Articles from the site are frequently copied (sometimes even months or years later) by varous fake news websites that omit the satire disclaimer and present the information as real.
We wrote about worldnewsdailyreport.com before, here are our most recent articles that mention the site: