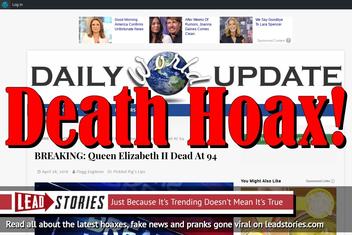 Did Queen Elizabeth II of England die aged 94 today and were her final words about not trusting Donald Trump? No, that's not true: the "news" came from a satirical fake news site that has made it a mission to troll conservatives and Trump supporters in order to mock them when they spread the fake articles appearing on the website. This is their second big death hoax in a week.
The hoax originated from an article published on April 29, 2018 titled "BREAKING: Queen Elizabeth II Dead At 94" (archived here) which opened:
Queen Elizabeth II of England, Ruler of the Britons, Matriarch of the Kingdom, Protector of the Realm and Second of her name succumbed to a stroke in her home in Windsor this afternoon. The news is slowly making its way out of Buckingham Palace, which is on complete lockdown until official word comes from the Royal Coroner.

According to a source close to the BBC, Her Royal Highness was awake and alert while the stroke was happening and managed to get out one final thought: "Don't trust Donald Trump." Shortly thereafter she passed.
Users on social media only saw this title, description and thumbnail, in a likely attempt to get Trump fans to click:
Her last words included thoughts on our President
The site comes with a clear satire disclaimer at the bottom of each article:
sat·ire ~ˈsaˌtī(ə)r
noun
the use of humor, irony, exaggeration, OR ridicule to expose and criticize people's stupidity or vices, particularly in the context of contemporary politics and other topical issues.
If you disagree with the definition of satire or have decided it is synonymous with "comedy," you should really just move along.
The owner and main writer of the site is self-professed liberal troll Christopher Blair, a man from Maine who has made it his full time job to troll gullible conservatives and Trump supporters into liking and sharing his articles. He runs several other websites, including potatriotpost.us, dailyworldupdate.us and nofakenewsonline.us. Sometimes he is also known under his nickname "Busta Troll". A second man working on the sites is John Prager as revealed in this earlier story we wrote.
Articles from Blair's sites frequently get copied by "real" fake news sites who often omit the satire disclaimer and any other hints the stories are fake. Blair has tried to get these sites shut down in the past but new ones keep cropping up and he keeps knocking them down.
If you see one of his stories on a site that does not contain a satire disclaimer, assume it is fake news. If you do see the satire disclaimer it is of course also fake news.
We wrote about dailyworldupdate.us before, here are our most recent articles that mention the site: