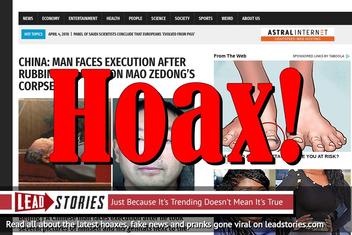 Did a man named Jiang Chunhua take pictures of his penis next to the embalmed corpse of Mao Zedong, former Chairman of the Chinese Communist Party? And does he now face execution for this "crime"? No, that's not true: the story was made up by a satirical website that invents fake stories all the time.
World News Daily Report published an article on April 11, 2018 titled "China: Man faces execution after rubbing his penis on Mao Zedong's corpse" (archived here) which opened:
Beijing | A Chinese man faces execution after he took several pictures of himself and his genitals next to the embalmed corpse of Chairman Mao Zedong, reports the Beijing Express.
Jiang Chunhua, an employee of the Mausoleum of Mao Zedong, had been working at the facility for the past sixteen years before his arrest this week.

Camera footage allegedly showed the former janitor desecrating the embalmed body of Mao Zedong, according to authorities.

Chunhua admittedly took pictures of his genitals next to the leader "as a joke" and to "impress his friends" an official of the mausoleum told the press.
We were unable to locate a newspaper named Beijing Express so at least that part of the story can't be true. In addition the man pictured in the image that accompanied the article is actually Zhang Weiqiang, a Chinese scientist who got sentenced to prison over the theft of GMO rice recently:
A Chinese scientist in Kansas was sentenced on Wednesday to more than 10 years in a federal prison for conspiring to steal samples of a variety of genetically engineered rice seeds from a U.S. research facility, the U.S. Justice Department said.
The website World News Daily Report is a well known satire website specialized in posting hoaxes and made up stories. The disclaimer on their website is pretty clear about that even though you have to scroll all the way down the page to find it:
World News Daily Report assumes all responsibility for the satirical nature of its articles and for the fictional nature of their content. All characters appearing in the articles in this website - even those based on real people - are entirely fictional and any resemblance between them and any person, living, dead or undead, is purely a miracle.
It is run by Janick Murray-Hall and Olivier Legault, who also run the satirical Journal de Mourréal, a satirical site spoofing the (real) Journal de Montéal. Very often their stories feature an image showing a random crazy mugshot found in a mugshot gallery on the internet or on a stock photo website superimposed over a background of flashing police lights or crime scene tape.
Articles from the site are frequently copied (sometimes even months or years later) by varous fake news websites that omit the satire disclaimer and present the information as real.
We wrote about worldnewsdailyreport.com before, here are our most recent articles that mention the site: