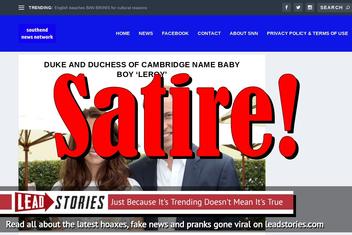 Did the Duke and Duchess of Cambridge announce "Leroy" would be the name of their newborn son? No, that's a hoax spread by a satirical website. There has been no official announcement of the name just yet.
The story originated from an article published by the Southend News Network on April 23, 2018 titled "Duke and Duchess of Cambridge name baby boy 'Leroy'" (archived here) which opened:
In an announcement from Kensington Palace, it has been confirmed that the Duke and Duchess of Cambridge have names their third baby Leroy.

No further details have been given at the present time.

A source within the Royal Westminster Maternity Hospital said, 'There was a lot of shouting and screaming about something or other, and then all of a sudden it went quiet.'
According to the BBC no announcement has been made about a name yet, although there is a lot of speculation:
As the Duchess of Cambridge goes into labour with her third child, speculation continues about what the baby will be called. With Arthur, Albert and Fred among the current bookies' favourite for a boy and Mary, Alice and Victoria for a girl, it appears the public expect the royal couple to opt for a traditional name, rather than something more left of field.
Here is the official press release announcing the birth:
Her Royal Highness The Duchess of Cambridge was safely delivered of a son at 1101hrs. The baby weighs 8lbs 7oz. The Duke of Cambridge was present for the birth. The Queen, The Duke of Edinburgh, The Prince of Wales, The Duchess of Cornwall, Prince Harry and members of both families have been informed and are delighted with the news.
It noted:
2. The name of the baby will be announced in due course.
The Southend News Network is a satirical site pretending to be a news organisation somewhere by the English coast in Southend. They have a disclaimer on their about page that reads (in part):
Southend News Network was originally started in October 2015 with no real aims or objectives in mind other than to add a satirical/spoof-like touch to issues that people are passionate about in Southend On Sea. Above all else, SNN is all about having the occasional 'dig' at the powers that be, as well a slightly bigger and more frequent 'dig' at certain elements of local media!
Several of their stories have been mistaken for real news in the past and the site was recognized by the local authorities as an "official news outlet".
We wrote about southendnewsnetwork.net before, here are our most recent articles that mention the site: