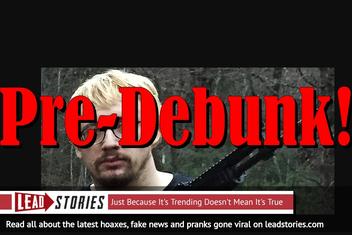 There are reports coming from Toronto about a van deliberately mounting the pavement and hitting several pedestrians. Initial reports are still coming in but some people on social media are already calling it terrorism without knowing anything about the driver or his motives (if any).
One thing is for certain: it won't be long before trolls will start accusing right-wing comedian Sam Hyde of being the suspect, it is a strange in-joke that has been going on for years. We wanted to try and pre-debunk these rumors, so here you go.
Sam Hyde is not the perpetrator of a mass shooting. But whenever a shooter strikes and the news reports casualties, trolls race to name Hyde as the culprit. In the worst cases, authorities have been tricked into giving Hyde's name to the press.
CBC already announced the driver is in custody:
Toronto police say they have arrested a driver after a white van struck several pedestrians in the Yonge Street and Finch Avenue area. Eight to 10 people were hit, but Toronto paramedics said the number was up to five. The van, which may have mounted the curb and hit the pedestrians on the sidewalk, was stopped by police, Const.
Update: and here is the first one:
Police release a photo of the suspected driver, previously known to police, who struck pedestrians in Toronto.

Authorities say the driver, Sam Hyde, made a YouTube video titled "Day of the Rake" before the incident. pic.twitter.com/yHE9bmcBgW

-- Aetius (@ptmk25) April 23, 2018
Follow along live as more Sam Hyde tweets pop up: