STORY UPDATED: check for updates below.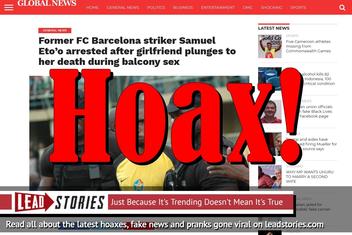 Did Cameroonian soccer player Samuel Eto'o get arrested after his girlfriend plunged to her death during sex with him on the balcony of a luxury hotel in Nigeria? No, that did not happen. The fake story originated on a website that is known for regularily publishing false stories and which is part of a network of such sites.
The story appeared on the website Global News (glonews360.com) and was titled "Former FC Barcelona striker Samuel Eto'o arrested after girlfriend plunges to her death during balcony sex" (archived here). It opened:
Former Cameroonian striker Samuel Eto'o has been arrested on suspicion of 'negligence causing others to die' after a girlfriend fell over a balcony to her death in Lagos, Nigeria.

Samuel Eto'o, 37, was arrested at one of the state's top luxury hotels, 'The Wheatbaker Hotel', along Lawrence Rd, Ikoyi, Lagos on Wednesday following the horrific death of Nneka Claudia, 26.

She fell to her death after the pair were said to be having 'strange and extravagant sex' on the balcony of a 5th floor of the hotel apartment. She suffered severe head injuries and multiple fractures when she plunged naked to the floor below.
No other news sources have made any mention of the news and none of the supposed footage of the incident is available anywhere online.
This is not the first time Eto'o has been victim of fake news. On April Fools' Day a site falsely claimed he was running for president in Cameroon, causing Eto'o to threaten a lawsuit later:
Former Barcelona and Inter Milan striker Samuel Eto'o has threatened to sue Jeune Afrique Magazine for defamation after they published an article which claimed that Eto'o was planning to run in the 2018 Cameroon presidential election.
It remains to be seen if Eto'o will sue this website too.
The "arrest photo" illustrating the story seems to have been taken on the sidelines of a soccer match in 2011:
More than 15,000 fans defied the torrential rains to be at the Teslim Balogun Stadium in Lagos to say goodbye to Nwankwo Kanu as he called time on an international career that spanned over 17 years. The cheering fans proudly displayed banners in tribute to the 34-year-old icon: "Kanu is our legend, we will always love you", "Who will be like Kanu?"
The site appears to be part of a network of fake news websites that all have normal looking front pages with some generic news stories taken from other websites but which frequently publish hoax articles on other parts of the site that aren't immediately obvious to visitors. These stories frequently are death hoaxes about celebrities or other well known people that have been reported as being in the hospital by mainstream news sources. Some sites we've identified as part of the network include: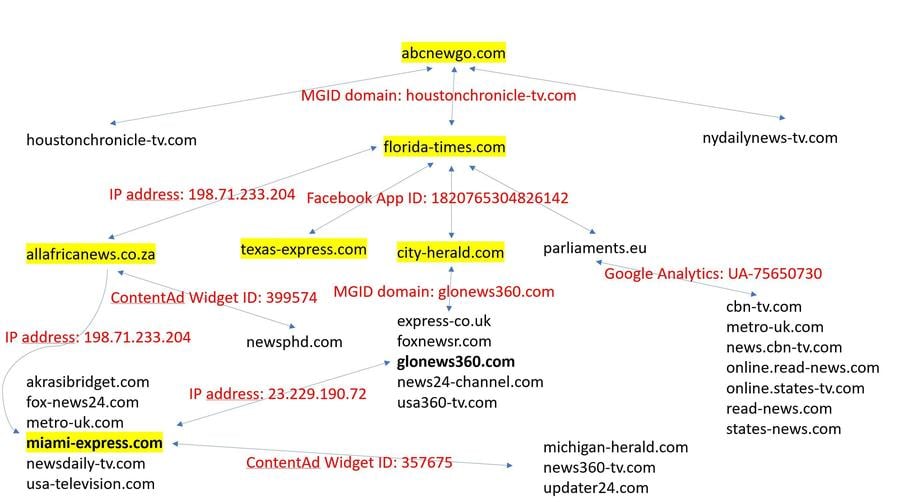 We wrote a longer exposé about that network here if you are interested in reading more about the kinds of tricks and tactics used by this network.
We wrote about glonews360.com before, here are our most recent articles that mention the site:
2018-04-12T15:50:39Z

2018-04-12T15:50:39Z

Added background info on the photo that illustrated the story.

2018-04-12T15:39:20Z

2018-04-12T15:39:20Z