STORY UPDATED: check for updates below.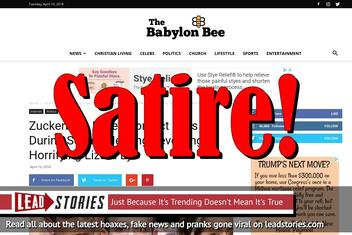 Did Facebook CEO Mark Zuckerberg lose a contact lens during the recent senate hearing and did this reveal a lizard eye? Nope, although many people believe there is a "lizard people" conspiracy saying reptilians secretly control the earth, the story about Zuckerberg being one of them is totally made up, it originated on a satire website.
It was published on April 10, 2018 by The Babylon Bee under the headline "Zuckerberg Loses Contact Lens During Senate Hearing Revealing Horrifying Lizard Eye" (archived here) and opened:
WASHINGTON, D.C.--During his much-publicized appearance before a bipartisan Senate committee Tuesday, the false, humanlike contact lens Facebook CEO Mark Zuckerberg had placed over his left eye accidentally fell out, revealing the horrifying yellow lizard eye lying underneath.
The story went massively viral, collecting nearly 80,000 engagements on Facebook alone at the time of writing and still gaining more.
But you shouldn't take the "news" seriously since The Babylon Bee comes with following dislaimer on every page:
The Babylon Bee is Your Trusted Source For Christian News Satire.
If you feel up to it you can watch the recording of the entire hearing here to see for yourself no contact lens popped out at any time:
Some of The Babylon Bee's greatest past hits include:
With a track record like that it is clear that you shouldn't take anything posted on the site seriously and you definitely shouldn't confuse it with real news.
We wrote about more babylonbee.com articles going viral recently:
2018-04-11T15:57:35Z

2018-04-11T15:57:35Z

The hoax has now been copied by fauxtire site

Huzlers.com

too.