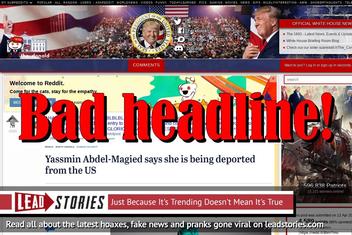 Was activist Yassmin Abdel-Magied denied entry by US Customs and Border Protection agents in Mineappolis for having conversations on her phone with known terrorists groups? No, a screenshot of a news article with a misleading headline added was posted on April 12, 2018 to Reddit's The Donald subforum. The full headline of the post read: "HAHAHAHAHA! *breathes* BLBLBLBLBHAHAHA! *snorts* Oh lordy folks, this is beautiful - irritating woman is furious because she got denied entry to the US after they found conversations with known terrorist groups on her phone! WHAT A DAY! WHAT A GLORIOUS DAY!!! MY SIDES ARE IN ORBIT!!!!!! • r/The_Donald" (archived here). At the time of writing the post had 1024 points and 58 comments so far on reddit
The controversial activist herself said her phone was taken but it was heavily encrypted so it seems unlikely any messages could have been recovered in the short time she did not have it:
Oh yuh and did I mention they took my phone for the whole time? Fortunately I'm a paranoid person - notifications don't show previews of messages, and a 12 digit passcode. Always be vigilant, yo.

-- Yassmin Abdel-Magied (@yassmin_a) April 12, 2018
Meanwhile the Sydney Morning Herald has reported that the deportation was because of a visa issue:
The author and activist had arrived in the country ahead of speaking engagements in New York.
The article quoted from a CBP statement:
"During the inspection, CBP officers determined this individual did not possess the appropriate visa to receive monetary compensation for the speaking engagement she had planned during her visit to the United States.

"As such, she was deemed inadmissible to enter the United States for her visit, but was allowed to withdraw her application for admission."

The CBP said Ms Abdel-Magied was not banned from entering the US in the future and could reapply for a visa for later visits.
No reliable media outlets have reported anything about terrorism links being the reason for the denial of entry. In such case it would also be more likely that an arrest would have followed. Direct messages with terrorists would certainly count as probable cause and no judge would deny a warrant to pursue further investigation in such cases.